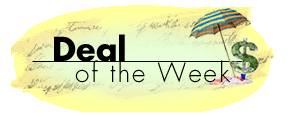 February 2, 2001
Deal of the Week: High-Flying Bargains from Lufthansa
Audio available on Monday, February 5.
How would you like to deliver the gift of travel to your Valentine? A trip to Europe, perhaps? If you do it right, you may save hundreds of dollars and have some fun along the way. That because this weekend, Lufthansa is conducting an on-line auction of nearly 50 tickets from various US cities to such destinations as Munich, Madrid, Istanbul, and Paris. Want a sample of some past auction bargains? How round-trip tickets from Detroit to Geneva for 250 bucks, or a round-trip flight from LA to Athens for 485?
The auction opened on Friday and continues until 7 p.m. Eastern Time, Monday, February 5th. There's no minimum bid, but a minimum advance of 20 dollars. So, say someone bids 70... you have to bid 90 bucks to go to the top of the list. Each lot consists of either one or two tickets. Now, solo travel doesn't say "Valentine" to me, but if you get a real bargain on a single ticket, you can use the money you save to buy your second ticket at retail.
High-flying bargains going to the highest bidder at Lufthansa.com - that's our Deal of the Week!