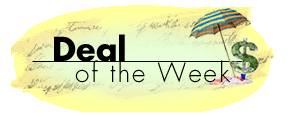 January 19, 2001
Discounts Galore on the Web
What if I told you there was a web site that lists discounts available all over the world? Things like 15 percent off opera tickets in Rome, and a couple bucks off admission to Madame Tussaud's Wax Museum in London? Or how about 30 percent off prices at a Santa Monica cafe?
You can find all this and lots, lots more at the web site operated by the International Youth Hostel Federation. If you go to their home page at iyhf.org, and click on "Discount Database," you'll find the nuggets. The menu of offerings includes lots of discounts at eateries, bike rental shops, and retail outlets. And it's a pretty varied menu. Like 10 percent off tattoos and body piercing in North Conway, New Hampshire, or, in the same town, 10 per cent off ice cream at Bobby Sue's. Personally, I'll take the ice cream. There's 20 percent off the entrance fee to Gatorland in Florida City, Florida, or two scoops at Baskin & Robbins in Portland, Oregon, for half price. I'll still take the ice cream.
There are discounts in hundreds of cities in dozens of countries. All you have to do to cash in is show your youth hostel card that you can buy for $25 if you're between 18 and 54. The best news is: You don't have to be a youth to qualify.
Discounts galore courtesy of international youth hostels - that's our Deal of the Week!