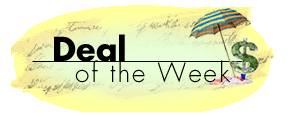 January 12, 2001
East-coasters Cut the Cost of the Caribbean
The Dominican Republic is one of those Caribbean islands that doesn't get enough attention. It's not as glam as St. Bart's or St. Maartens. It's not as well-known as the British or U.S. Virgin Islands. But it's got the same sun, glorious beaches, and, usually- much better prices.
Take this deal, for example, aimed at anyone on the East Coast tired of the cold weather. Offered by a New York-based travel club called Moment's Notice, this special makes a trip to the Caribbean in the heart of winter more affordable than ever. For only $850 a person, based on two people traveling, you can fly from New York, Philadelphia, Cleveland, Pittsburgh or Cincinnati to an all-inclusive resort in the Dominican Republic. You'll stay seven days at the Sol de Plata Beach Resort in Punta Cana, the major tourist part of the island. Sol de Plata resort offers golf, tennis, water sports, and programs for children. Remember, we're talking all-inclusive, so your meals and drinks as well as airfare and lodging are covered for a week for $850. One person in your party will have to pay $25 to join Moment's Notice, and airport taxes and fees will total about $130. But a week in the Caribbean for about a thousand bucks a person is a bargain by any measure. And it's good in prime time - from February 9th through the end of April. We'll provide a link at savvytraveler.com for the details.
Cutting the cost of a Caribbean getaway - that's our Deal of the Week!