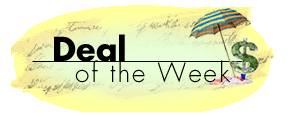 December 22, 2000
Christmas Bargains Help Ring in the New Year
Well, 'tis the Christmas season, and I see a few travel gifts here in Santa's bag. If the Florida sun is calling your name, both JetBlue and US Airways will fly you from the East coast south cheaply if you plan ahead. US Airways offers $98 ROUND TRIP tickets to Fort Lauderdale from cities including Manchester, New Hampshire and Providence, Rhode Island. $98 will also take you to Orlando, from airports including Baltimore-Washington International.
Here's the fine print: For those rock-bottom prices, you have to fly Tuesday, Wednesday, or Thursday between January 3 and February 15, and buy your tickets at least a week in advance. A Saturday night stay over is required if you're flying US Airways. But any night will do if you're flying its sister airline, MetroJet.
JetBlue's discounted flights last a month longer - until mid-March. For 98 bucks round-trip, you can fly from JFK or Buffalo to Tampa or Orlando. Add $10 to Ft. Lauderdale. Just buy your tickets by January 16. One nice thing about JetBlue is that no Saturday night stay is ever required.
And one good thing about growing older: it'll at least save you money if you check into many Holiday Inns. If you're 50 or over, you can join the retirement organization, AARP. That costs $10 a year. And if you ARE an AARP member, Holiday Inn will take 25 per cent off your room price plus throw in a free breakfast until the last day of January. Most participating Holiday Inns are in the Western U.S. and Canada.