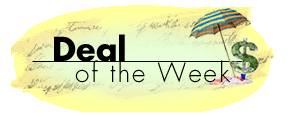 December 1, 2000
A Return on Investment
Like buying stock on the dip? Well, with the Dow and Nasdaq creeping lower these days, this is certainly the season for you. And if you're going to buy stock, why not get some free airline tickets to boot? Right now, the online trading firm Ameritrade promises free airfare for two to Hawaii, Mexico or London when you open an account. The small print: You have to open it with a minimum of $500 before January 2, and buy 7 nights at a participating hotel along with your travel.
The offer is pretty straightforward. You open an account - which you can do on line in about ten minutes - and you get tickets for two between the mainland US and Hawaii, Mexico, or London. You must book your travel by April, and complete it by the middle of December of next year. Now, you're wondering: is the price of the airline tickets built into that required, seven-night hotel purchase? Well, it doesn't seem like it. I called Ameritrade and was told that the participating hotel chain was Sheraton and room rates vary between $170-$450 a night depending on your destination. And considering that a couple of round-trip tickets between LA and London can be worth a thousand bucks or more, this sounds like a pretty good deal. Check it out at ameritrade.com.
Finally, a return on investment that's pure fun! That's my Deal of the Week!