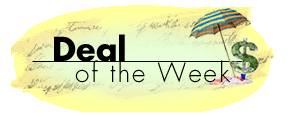 October 20, 2000
East Coast Round Trips
This week's deal is a little something for the East Coast crowd. Unlike our listeners in the West, you routinely pay way too much to travel between DC, New York and Boston on either of the shuttle services operated by US Airways or Delta -- as much as $400 round trip to fly between those cities! On the West Coast, you can fly between LA and San Francisco -- twice the distance -- for much less.
However, between October 21st and November 12th, US Airways will fly you between any of those three East Coast Cities -- DC, New York, and Boston -- for only $99 round trip on Saturdays and Sundays That's perfect for a Saturday night dinner with friends you haven't seen in a while. Or maybe you want to do some holiday shopping in Manhattan? Two things you must know: You have to buy your tickets on line at usairways.com, and you must act by the last day of this month, Halloween.
No trick -- just a little treat. Cheap weekends on the US Airways East Coast Shuttle -- that's my Deal of the Week!