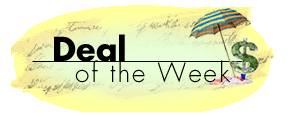 September 8, 2000
Endless Summer
You're on a journey with The Savvy Traveler, and it's time for my Deal of the Week!
Surf's up! Yeah, sure. It's the end of the summer unless you happen to be talking about Bali, Brisbane, the Maldives, Kuala Lumpur or any of a dozen other international hot spots. But why just choose one? Pick a few, grab your board, and head off around the world. AirTreks, the San Francisco-based travel agency that specializes in around-the-world tickets, has designed a handful of trips it's calling SurfTreks, jaunts to sunny spots around the world.
So, you can leave San Francisco and land in Bali to catch a few waves. Then continue on to Malaysia and the Philippines. The airfare? only $1,300. AirTreks offers dozens of warm-weather destinations in its around-the-world portfolios. Or you can design your own travel plans. Either way, you'll probably wind up paying less than you would to buy a round-trip ticket to a single destination. And, of course, you don't have to surf to enjoy a tropical clime. You have to book three weeks in advance of travel and make your reservations by the end of this month. For details, call (888) 285-3137 or click on surftreks.com.
Catch a plane for an endless summer. That's my Deal of the Week.