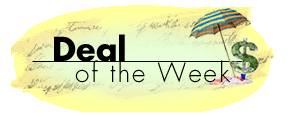 August 11, 2000
Walk Hadrian's Wall
Today I'd like to suggest a lovely walk through the northern English countryside along Hadrian's Wall. Built nineteen-hundred years ago by Roman legions to hold back barbarian tribes from the north, miles of the five-foot thick wall still stand in the craggy highlands along the Scottish border.
A B&B owner there has mapped out a route and put together a well-priced, eight-night hiking trip called "Walking With History." It allows you to stay in an elegant town home, two country B&Bs and an 18th century inn where travelers by coach would stop for the night. The price is only $128 a night for two of you. That includes lodging, splendid country breakfasts as well as transport of your luggage from place to place, so you won't have any heavy lifting during your daytime walks of about ten miles. Transportation from the local train station at both ends of your trip is also included. What's nice about this walk through history is that it's peaceful: there aren't many tourists around, and you're not traveling in a group. Plus, the scenery is breathtaking. For details, call Leisure Resource Tours at 800-729-9051 or click on our web site, savvytraveler-dot-com.
Live the life of a Jane Austin character at a nice price-lovely! That's my Deal of the Week.