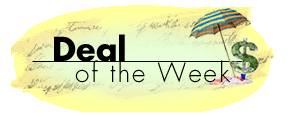 July 15, 2000
Go Greyhound!
Gas prices, gas prices, gas prices. I know they're high. The price of fuel for airplanes has kept summer fares up.
Remember Greyhound? As in "The Bus"? Well, Greyhound is borrowing a page from the airlines and lowering prices if you can book your travel 14-days in advance. Its summer fares work on a strict mileage basis. A one-way ticket for a trip less than 501 miles only costs $49 if you travel Monday through Thursday. The price goes up $10 for each additional 500 miles. Cross-country costs $99 each way. Fares for weekend travel are only slightly higher for short trips but the same for trips over 1,500 miles.
You have to book your travel by August 13th, and complete your trip by August 27th. That's it. It's a good deal for students or folks whose schedules are flexible enough to take the time to watch the countryside go by. Go to www.greyhound.com or call 1 (800) 229-9424 for details.
Save money by riding "The Dog." That's my Deal of the Week.