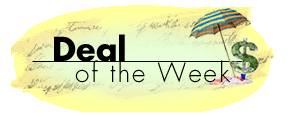 July 1, 2000
The Pass to the City
How would you like to beat the ticket lines this summer at places like Universal Studios in L.A., the Art Institute of Chicago, or the Museum of Modern Art in New York City? Not only that, how'd you like to save up to 50 percent on admission prices to some of the top urban tourist attractions in the country?
That's the promise of CityPass, a program that sells booklets of tickets at a discount for the most popular tourist sites in seven major U.S. cities. You pay between $20 and $50 for each booklet. Say you're headed to San Francisco. Your passes will be accepted at major museums, the aquarium, as well as the cruise line that takes you to Alcatraz. You can also hop on and off cable cars and busses as many times as you want for no extra charge.
Find out more about the CityPass booklets by visiting their website at http://www.citypass.net/.
Low prices and no lines. That's my Deal of the Week.