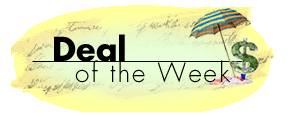 June 10, 2000
Coast to Coast Cheap
How does coast-to-coast for $99 with no advance purchase or Saturday-night stay over required sound? Say hello to new routes and new fares just announced by the East Coast start-up airline called JetBlue. Beginning July 21st, JetBlue will fly night flights between New York's JFK airport and Los Angeles' Ontario Airport. Then, on August 3rd, JetBlue will begin late-night service from New York to Oakland airport, just outside San Francisco.
Fares begin at $99 each way. When the cheap seats are gone, fares will go to $149, $199, $249 or $299 each way. So, though no advance purchase is required, the sooner you book, the more likely you are to score a cheap seat. But even the highest-priced seat on Jet Blue can cost a quarter of what larger competitors charge for a last-minute, coach seat. Flights will leave JFK around eight in the evening, landing on the west coast around 11 p.m. From the West Coast, planes will take off near midnight and land at JFK around eight in the morning.
In addition, for five dollars extra, you can watch CNN or any of a dozen other real-time television channels at your seat. Call 1-800-JETBLUE for all details.
Coast to coast cheap on JetBlue, that's my Deal of the Week.