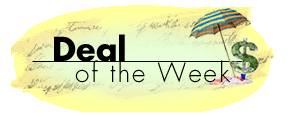 June 3, 2000
A Club for Deal-lovers
Northwest Airlines is starting a club that it says will offer deals to members that might even beat its weekly e-saver fares. Plus, if you join, you'll get a handful of certificates. One will entitle you to up to $300 off your next two Northwest or KLM flights. Another will save you 2,000 miles next time you request a WorldPerks award ticket. You'll also get a certificate good for $25 off a Hertz Leisure Weekly rental rates and six months worth of Internet service on EarthLink for $9.95 a month.
It's called the nwa.com Club, and like many clubs, it's restricting membership. You have to sign up by June 30th. And just to stretch the club analogy, there's actually a fee to join: $35 a year.
What kind of airfare deals can you expect? Well, we won't know until the club begins operation this summer. Is it worth the $35 fee? If you're planning a trip during the next year on Northwest, or if the airline serves cities you like to visit, I'd say, "Yes." Just remember you have to go to Northwest's web site at nwa.com and sign up by the end of this month.
Northwest starts a club for deal lovers. That's my Deal of the Week.