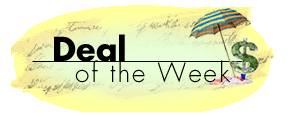 April 15, 2000
Double-digit Fares
It's the battle of the $99 fares! Southwest fired the first shot, advertising a summer fare sale featuring cross-country tickets for $99 each way. Then America West jumped in promising the same. Both offer tickets for travel through mid-September.
Now, in the past, that might have been it: two of the country's low-fare carriers going head-to-head. But maybe U.S. Airways is still feeling the sting of the business it lost last month when it appeared a flight attendants' strike might shut it down. Because on Monday, U.S. Airways announced unusually low e-fares good for travel for an unusually long time, through June 27th. Not to be outdone, Northwest on Tuesday unveiled summer family airfare deals good through early September.
As always, there are restrictions on all these deals. But the message is this: If you're willing to book now and book ahead, you can get some "el cheapo tix" for spring and summer domestic travel. I predict other airlines might get in on the game, too. And these $99 fares aren't just for coast-to-coast flights. America West, for example, will fly you between Detroit and Los Angeles, Phoenix and Seattle, and other city combinations for $99.
Double-digit fares for the summer. That's my Deal of the Week!