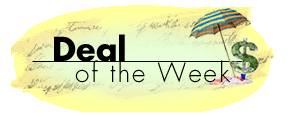 April 8, 2000
Get Lucky, Head to Vegas
Now here's a deal that's a real gamble. It involves Las Vegas, naturally, America West, and a little bit of cyber-luck. America West Airlines is reviving its Wheel of Savings at its web site, americawest.com. Until Sunday night at midnight, you can buy a ticket to or from Las Vegas and get a discount by spinning a cyber-wheel. The price of everyone's ticket will be reduced by five to 50 percent.
Now, if you haven't been to Vegas lately, I can tell you it's more than a place to gamble. The race to build bigger and fancier casinos and hotels has made it an entertainment and dining mecca. And I'm not just talking Siegfried and Roy or all-you can-eat buffets. I know, I know, you're thinking everyone will get a measly five percent discount with this airline promotion. Well, try these odds. America West promises you have a one in three chance of receiving a five per cent discount. Odds on a 10 percent discount are also one in three. Fifteen per cent discount? One in four. And the big boy, the 50 per cent discount? Well, you have a one in 12 chance of hitting that. Not bad by Vegas standards. By the way, you have until May 31st to travel, and if you book on line, you'll get an extra 1,000 frequent flyer miles.
Try your luck at americawest.com and see Vegas for less. That's my Deal of the Week.