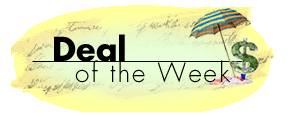 April 1, 2000
This Week: US Air Apology Sale
You can understand why US Airways might be anxious to host a sale. After all, last week's threatened strike kept passengers from booking tickets for fear they'd be stranded. So now US Airways says if you buy tickets by Monday, you can save big. It's calling this a spring sale, but it's really a bid to regain lost business.
No matter, a deal is a deal. How does Baltimore/Washington round trip to San Francisco for $258 sound? Pittsburgh to Paris for $331? Or Buffalo to Seattle at $298? Those are just some of the fares you can get if you book seven days before travel and, for most destinations, stay over a Saturday night. Book online at usairways.com, and you can take an extra five percent off. But, wait, there's more. You'll earn double miles until May 15th on any US Airways flight or aboard its sister, low-fare airline, Metrojet.
Remember, you have to book most tickets by Monday at midnight. However, to a few selected destinations such as Florida, the Caribbean, Canada and Europe, you have until April 7th to buy tickets. And in most cases, you have until mid-June to complete your travel.
US Airways grovels with a sale. That's my Deal of the Week.