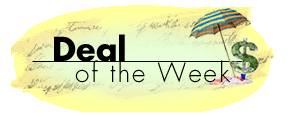 March 25, 2000
This Week: Hit the Road in Europe
Last week's deal got you to Europe cheaply. Now let's get you around the continent for a good price.
If you'd like to tour Europe by car for at least 17 days, check out a deal offered by the French car maker Renault. You can see the scenery from the wheel of a new car for as little as $499 including all taxes, insurance and unlimited miles during those 17 days. That works out to about $30 a day for a subcompact with standard shift. And you don't have to be in France to pick up the car. There are dozens of countries, and their major airports, where Renault will deliver your vehicle. For details, call 1(800)221-1052.
Now, if you need a car for less time, you can save big bucks, not to mention pounds, marks and francs, with Budget Rent-a-Car in Europe. Prices begin as low as $119 per week. That's for a car in the United Kingdom. Keep in mind, that price does not include taxes, surcharges, and airport fees that can add 20 percent to the bill. But Budget vows it will meet or beat any competition. You must reserve 12 hours in advance for the best price. Details? Call 1(800)472-3325.
Hitting the road for less in Europe. That's my Deal of the Week.