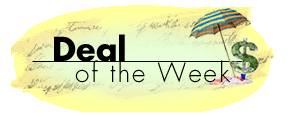 March 11, 2000
This Week: Disney at a Discount
At last, a Mickey Mouse deal that's worthy of the name. United Vacations is offering discounted trips to Disney World in Orlando for families of four between the end of April and August 26th. That, of course, is prime theme park time, when the kids are out of school.
United Airlines will fly you from almost anywhere in the U.S., put you up for three nights at one of Disney's "All-Star Resorts" and give you entrance tickets good at any of its Orlando theme parks. From Washington, D.C., the price is just under $2,000. From Chicago or Denver, only a little over $2,000. By the way, kids must be between two and 11.
So if you've been promising a trip to Disney World, give United Vacations at call at 800 328 6877. Do Disney at a discount -- that's my Deal of the Week!