Music with Bob Duskis artist info. for February 6, 2004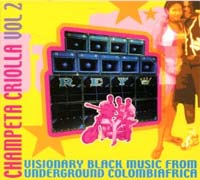 Artist: Various Artists
Release: "Champeta Criolla, Vol. 2" (Palenque Records)

Champeta music has been described as "what happens when West Africa gets reintroduced to the once-upon-a-slave-trade Caribbean coastline of Colombia." In the late '70s, West African sailors passed through the heavily African port cities of Cartagena and Barranquilla armed with LPs of soukous, highlife and Afro-beat. The African sound soon met up with the Latin sound and champeta's "Colombiafrica" fusions of cumbia and highlife, merengue and soukous were born.
Because champeta is defiantly black music on a continent that still defiantly denies and suppresses its black roots, the scene's zealous embrace of pan-African "blackness" has kept it in the Colombian underground. In Baranquilla, dancing champeta is even banned from public places. This compilation is the second volume in a series that is exposing this infectious music to a global audience.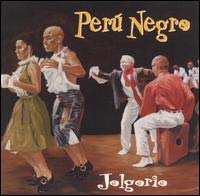 Artist: Peru Negro
Release: "Jolgorio" (Times Square Records)
Song: "Picaron"
For most music fans in the U.S., Peruvian music means Andean panpipes. While the African presence in such countries as Brazil and Cuba are well known, Peru's African legacy has only recently gained major attention here. It wasn't until 1995 when David Bryne's Luaka Bop label released "The Soul of Black Peru" compilation that the general public became aware of the rhythms and sounds propagated on Peru's coast by African slaves brought to work in the mines.
It is widely accepted that during the international black pride movements, the Peru Negro ensemble -- founded by Ronaldo Campos de la Colina to preserve Peru's African heritage 30 years ago -- became the national standard other bands emulated. The group continues to thrive today under the leadership of Ronaldo's son and this recently released new album shows their current vitality.
<< back to the Feb. 6, 2004 broadcast page