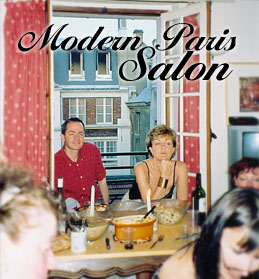 Paris Salon guests.
Photo: Tom Reeves
Travelers to Paris who want to feel just a little bohemian and literary can now do more than smoke a Gauloise and sit in an overpriced crowded café with hostile waiters. There's an alternative: Georgia native Patricia Laplante-Collins has reinvented the Paris literary salon. For the past 7 years, Collins has invited locals, visitors, artists and "personalities" to come to her Left Bank, Sunday soirees for dinner and conversation. Judith Ritter visited this salon and found, while not quite like the soirees of early 20th century, such as those of Gertrude Stein and Nathalie Barney, there was indeed something for everyone.
Modern Paris Salon
By Judith Ritter 12/13/2002
Patricia Laplante-Collins: "This is Patrick, Patrick who's a writer who lives in Paris. This is Yohan, who's French but he's got Swedish origins..."
It's Sunday, late afternoon and Collins, a Georgia ex-pat and longtime Paris resident, is introducing her guests to each other as they come up the creaking wooden stairs into her three room, Left Bank apartment.
Guest: "Patricia, excuse me, this is Elizabeth. Have you met?"
Some are regulars; some of them are new and want to seize the chance to be a bit bohemian. After all, outside of the college dorm, there are not many chances to discuss existential freedom, and such.
Guest: "This has not been a quest -- this is an evolution. You just tuck it in your heart."
And though most of the guests seem to be in their 30s or 40s, something here does remind me more of college than a salon literaire of the 1920s: candles all around the room stuck in bits of aluminum foil, what looks like an orange Indian bed spread thrown over a futon, and a thirtysomething man strumming an acoustic guitar. I position myself carefully next to the most attractive and animated man in the room.
Guest: "Oh Vienna, you know I spent a year in Austria. It was fantastic, but I never went to Vienna. I lived in Gratz, Felkick."
He seems at home here and I figure, he must be an artist of note. He turns and calls me "darling" and says he is an artist.
Guest: "I'm a bullshit artist: I do whatever it takes to survive, as long as it's legitimate."
Not quite the recipe for my Paris experience, but Seattle-born Randy Garret, a long-time ex-pat, is a regular at these soirees.
Randy: "I come, primarily, because she always has interesting people. Here it's more fascinating; it's more interesting; it's a place for people to come."

Collins: "How did you end up being in Paris, Peter? The so-called coudre foudre..."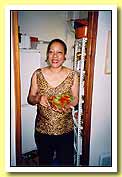 Patricia can turn out dinner for you from her tiny kitchen.
Photo: Tom Reeves

Collins, in a leopard print tank top, hair in a chignon, is working the room. Like the salon keepers before her, she invites painters, writers, philosophers, to speak at her soirees. But Collins also has Hollywood hangers-on, astrologers and tarot readers. The host, whom I've cornered, but whose attention immediately wanders from me to the rest of the room, laments times have changed. Some things just don't have the cache they did in the good old days.
Collins: "Poetry turns off people. It gets on people's nerves, so I have to careful with poets. I have a lot of poets presenting themselves, so I don't accept them -- very rarely."
Guests are different too. No budding Baldwins, passionate Picassos here. The crowd is divided evenly between ex-pats and locals, but most, rather than artistic or eccentric, are pleasantly ordinary: someone who sells insurance; there's a civil servant, a lawyer, and more than a few English-language teachers
Collins: "Peter, did I introduce you to Maxanna?"
Maxanna Nichols teaches English. She moved to Paris from Mobile, Alabama, and the salon is everything she came for.
Maxanna: "...and it's something about Paris that makes it happen."
A single night of hobnobbing here can fuel the fantasy of an offbeat life and offset the reality of just eking out a living teaching grammar in an expensive city: Here is something to write home about.
Maxanna: "Just walking up the steps, the creaky little steps with tiles that are broken and the wood that's worn by hundreds of feet. Everything down to the door handles look different. It feels different; it smells different. And suddenly, you're in it: You've never experienced anything like it. The same way you fall in love with a man or woman -- you just have to be here."
And, other ex-pats I talked to agreed. Americans, they tell me -- themselves excluded, of course -- are duds at the art of discourse. It's France and the French that make a salon a salon. And, it's oh-so-French here at Patricia's.
Patrick: "I think Americans are more friendly in their relationships."
But guess what? Unbeknownst, it seems, to the ex-pats in attendance, for some of the French guests, like Patrick, "the writer," as he has been introduced, it's completely the opposite: It's Americans who talk the talk. He comes here to practice his English and have conversations with those interesting ex-pats.
Patrick: "We haven't habit in our country, in France, to speak so easily. When you come to the place like that, you want to speak easily, not to stay alone. Americans do that very well. And, with people all around us, we could talk about everything, like as if we were friends for always. And here, in Patricia's house, it's like America."
And, the woman who has created this peculiar international symbiosis? Patricia Collins...is still working the room, working her magic. Part of the magic is laying out a spread of fried chicken and potato salad fit for a south Georgia Sunday-school supper, which, by the way, is where Collins tells me she started entertaining.
Collins: "My grandfather had a nightclub, so I just knew that everyday you had acts, events everyday, basically. It wasn't that I wanted to have a nightclub; I just got the idea of putting together acts. You kind of have the place where people come."
The "act" tonight is painter Isaac Shari.
Shari: "These are my former works, and I am going to take you through a slide show."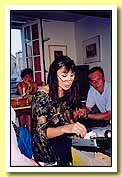 Guest of honor, painter Isaac Shari, shows slides
Photo: Tom Reeves

With her straight, long black hair and dark eye makeup, Shari looks and sounds as if she was sent to the salon from Central Casting.
Shari: "This is my general style: They call it figurative and surrealistic."
The artist shows slides of her rather sexually explicit work, which was actually quite good. But after about 15 minutes of art talk, most the guests just seem restless or, like Patricia, exhausted.

The questions peter out and the guests start conversations among themselves. Pascal, another English teacher, confides she was just hoping for a repeat of the best night she ever had here: When Yves, a Parisian acoustic guitar player, sat down, not to play the tunes of Charles Aznavour, but those of Crosby, Stills and Nash -- and the greatest fun of all at this Paris Salon.
Pascal: "He even played the Coca-Cola song..."
It was twilight in Paris and the window framed the darkness, spreading over the slate roofs of the city, and a bit of moon appeared. After some announcements of available apartments and upcoming speakers, the tired guests took their leave. Monday was just another day of crowding on the metro to get to the office, but at least for tonight, each of these salon go-ers could sleep well satisfied he/she had had a most exotic international experience -- and that living in Paris was, indeed, like having a love affair.
Guest: "I'm leaving now. Did you have a nice evening? Very nice evening, thank you very much."

Patricia: "So, Hubert, you leaving also? Bonsoir, c'est..? Sylvie...Merci d'etre venu. Goodnight, bonsoir, bye-bye..."
In Paris, France, I'm Judith Ritter for The Savvy Traveler

Savvy Resources:

TO GO TO A SUNDAY SALON:
Patricia Laplante-Collins
35 quai d'Anjou
75004 Paris, France
Tel: 331 43 26 12 88
Fax: 331 45 86 40 59
parissoirees@noos.fr

FOR A SELF-GUIDED LITERARY TOUR OF PARIS:
Includes the haunts of salon greats Gertrude Stein, Natalie Barney and Simone de Beauvoir... contact info@discoverparis.net

HOW TO GO:
Air Canada: Offers daily flights from Montreal with United connections from US cities. They just launched a seat sale for Paris.
www.aircanada.ca

WHERE TO STAY: Hyatt Madeline-Small hotel centrally located, good restaurants. Great fireplace in lobby restaurant!
el Photo Tou Hyatt Regency Paris - Madeleine
24 Boulevard Malesherbes
75008 Paris
France
Tel: +33 1 5527 1234
Fax: +33 1 5527 1235
www.paris.hyatt.com

Return to Feature Archive