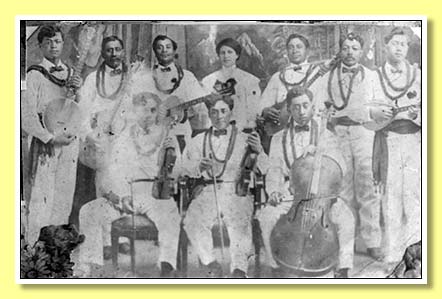 Musical group, Iosepa Troubadours, around 1910.
Photo: Used by permission, Utah State Historical Society, all rights reserved.
Got a full tank of gas? Got a free afternoon? Jeff Rice did, and he found himself driving to one of those fabled, blank spots on the map. You never know what you'll find there. In Utah's west desert, you won't find Shangri-La -- but the South Seas may be closer than you think.
Utah Luau
By Jeff Rice 11/22/2002
(sound: ukulele music)
The lake sure smells putrid today. The wind is just right -- it smells dead.

The Great Salt Lake is 15 times more salty than the ocean, and the only thing that lives in it are these little water bugs called brine shrimp: little creatures once sold as "sea monkeys" in the backs of comic books.

If there was such a thing as the opposite of a tropical island paradise, the Great Salt Lake would be it. There are places to the west, out on the salt flats, where insects can't even live. You drive across sections of highway in the summer and you won't get so much as a gnat on your headlights.

A few years ago, I drove past the lake, out toward the emptiness and then turned left to go to a place called Iosepa in Skull Valley, Utah.

I was told Iosepa was a Hawaiian name, and that up in the hills, there were petroglyphs of jellyfish and sea turtles carved into the rocks: scenes of sharks and sea lions and palm trees.


Decorating the graves in Iosepa. Photo by Joyce Hammond, Courtesy of Utah Arts Council.

My directions were a little unclear. "Take the road toward the top secret army base. Go past muskrat spring until you get near salt mountain. Pull off at a small ranch house."

It was windy and dusty. I didn't see anyone around, so I walked up to the old cemetery. Overlooking it was a large monolith with a bust of what appeared to be a Hawaiian chief. There was a plaque with these words written in Hawaiian: "The life of the land is perpetuated in righteousness"…the motto of the kingdom of Hawaii.
Man speaking Hawaiian: "Ua mau ke ea o ka aina i ka pono. Ua mau ke ea o ka aina i ka pono."
Meaning: "The life of the land is perpetuated in righteousness."

A few years later, and I am standing under the Hawaiian chief statue again, along with Gino Hewlen. There are actually about 500 other Hawaiians around here too. They are staying in Winnebagos and tents. There is this big, righteous luau going on.

A pig is roasting in a pit. People are dancing and singing. But the land is just as barren as it always is. All dry grass and sagebrush.
Jeff: Does it seem strange to have Hawaiians in the middle of the desert?

Gino: It's kind of strange. We think it's kind of off the wall.
You know, Joseph Smith III had to have been the most convincing preacher in the history of Christendom.

Let me back up here: Joseph Smith III was the grandson of Mormon Church founder Joseph Smith, and he spent a lot of time as a missionary in Hawaii. In 1889, he helped convince about 50 Hawaiians to pack up and leave paradise and move…here…out in Utah's west desert. They even named their town after him.

We're in Iosepa. Skull valley, Utah. The temperature is about (laughs)… and we're expecting rain soon, probably -- or locust. And, it's exactly what the Polynesians endured in their experiment here in the desert.

Smith told them that, according to Mormon scripture, they were descendents of a lost tribe of Israel. And, that they were part of a great gathering of the tribes here in Zion. They would go forth and make the desert bloom. The life of the land would indeed be perpetuated in righteousness.

You've got to hand it to them. The colony grew to about 200, and they held on for more than 25 years -- enough time to leave 44 graves in the cemetery. Even several cases of leprosy didn't turn them back.




"Iosepa residents celebrating Pioneer Day, 1913"Photo: Used by permission, Utah State Historical Society, all rights reserved.
Eventually, it was the Mormon Church that thought better of things and adjourned the colony. But I'll bet the Hawaiians would have stuck it out.
Polynesians still come here. Every year, there's this big celebration to marvel at what the Iosepans accomplished. Saichi Kawahara is here performing some old songs composed by a group of the settlers who called themselves the "Iosepa Troubadours."
(sound: music played by Saichi Kawahara)
This is a song that was composed here, and inside of it is wrapped up the whole Polynesian experience here in Skull Valley.

It was a lifestyle of hardship, and this is a very severe land here, but always maintaining the culture to the people back home, to their food, to their dances and their songs.

Looking out there now, it's hard to imagine Hawaiians in this place, or that a place like Hawaii even exists -- but you can try. At the top of the hill overlooking the Iosepa cemetery, if you squint, off to the north, you can see a vast patch of blue water in the distance. It's the Great Salt Lake.

"The life of the land is perpetuated in righteousness."

Sometimes, you take what you can get. And, if the wind is blowing away from you, maybe -- just maybe...
(sound: the song "Bali H'ai" from the movie South Pacific and crashing waves)
Savvy Resources:
Utah's Polynesian population:
http://www.utahtravelcenter.com
Utah State Office of Pacific Islander Affairs:
http://dced.utah.gov/poly/index.html
Iosepa history:
http://www.media.utah.edu/UHE/i/IOSEPA.html
More on the history of Iosepa, Utah:
http://www.kued.org/productions/polynesian/history/index.html
For more info on Iosepa:
"http://historytogo.utah.gov/iosepa.html"
US Ghosttown Index:
"http://www.ghosttowns.com/states/ut/iosepa.html"
Approximate directions to Iosepa:
"The celebration happens every year during Memorial Day weekend. The event is open to anyone, but it's mostly by word of mouth -- kind of like a big church picnic with about 500 visitors, mostly Polynesians. I found that people were very friendly. The Iosepa cemetery is open year-round, and you can just sort of wander around at your leisure, if you can find it.
Hmm... Finding it. I honestly don't know the name of the road that goes to Iosepa. I just go west out of Salt Lake City on Interstate 80 and turn off at the exit for Dugway Proving Grounds (the 'top secret' military base I mention in the story.) That exit is clearly marked. Follow that road about 18 miles (very rough estimate) and look for the cemetery on the left. There are a couple of ranch houses and a small roadside sign that says 'Iosepa.' If you miss it, and go past it, eventually you'll run into Dugway and armed guards will turn you back. So, don't go that far." --Jeff Rice
Return to Feature Archive