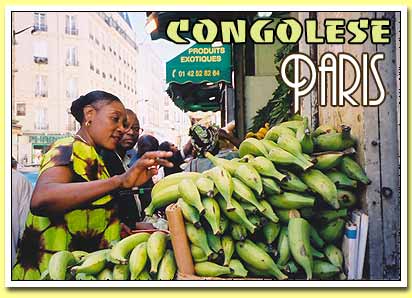 African market, Paris, France.
Photo: Judith Ritter
Who doesn't dream of Paris: its cafes and great museums and monuments? People come to Paris for cafes, croissants and the Eiffel Tower, usually. But Judith Ritter went to Paris with something else on her mind: a taste of Africa.
Congolese Paris
By Judith Ritter 11/15/2002
Tanawa: "C'est le quartier Africain. This is the heart of Africa in Paris."
My friend Tanawa, who's originally from Congo Brazzaville, but lives here now, points out the car window to the narrow, crowded streets filled mostly with people of color.
Tanawa: "Si vous voulez voir des Africains a Paris." (Translation: "If you want to see Africans in Paris, this is the place.")
I'm lucky to be in Paris today. It's Fete de la Musique, a big world music festival, including a lot of African music, like this concert in the park with Lokwa Kanza, a star of Congo Brazzaville.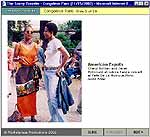 (click image to start slideshow.)

The crowd, a mix of black and white, tight jeans and loose, colorful African dress, is mostly standing -- but not still. They're half-dancing, dancing. More than a few people are dancing with cellphones held high for friends who couldn't make it here today. The music is irresistible, the language is Lingala, the audience is mostly French, but everyone is singing along to this song that mixes Lingala and English.

For Brooklyn- born Janet McDonald, a lawyer in Paris, discovering Africa in Paris is pure gift.
McDonald: "I just came down here not knowing what to expect. I love it. There are, like, Africans everywhere. I even made an African friend. I tell her I'm sorry, as an African American -- I'm very ignorant and we've been talking for 2 hours. Finally, I have a foray into the African community here. I feel I have a whole new world opening up to me that is actually my world, since I am actually from Africa, in the good old days."
Ansu Gebbe, who I meet in this outdoor market, is from Africa, but has lived in The States for years. We're having small cups of very strong coffee in Marche Africain, in Chateau Rouge. We're sitting at a tiny marble-topped table surrounded by stacks of brown, nubbly root crops and long green plantains. There are heaps of okra, yellow and green beads nya nya, and from Senegal, fresh silvery fish in slippery piles.
Gebbe: "It takes me back because there's a sense of an organized chaos -- the callers are the same. You still see the boisterous women around. You see the men huddled together. The callers, the smell, the noise, the laughter, the people touching each other -- it's just more of an intimate place. It's a touching feeling, a deeper sense of being closer to people."
Ansu and his partner Victor, from New York, and I are the only tourists in sight. We love the spectacle. Tall women swathed in the grande boubou, that's the dress of long drapes of vibrant, colorful fabrics, and wearing turbans, timbala, making the women seem even more stately -- a change from the sleek, fashionistas who are seen in nothing but black in the cafes and bistros and restaurants of the eighth and third arrondissement.

The produce and people in this market are likely to end up in one of Chateau Rouge's restaurants, like this one, Brazza la Vert Rue, where leopard skin curtains frame the window, and there are just 10 small tables.

Round-faced Julie Yekka-Romaine is the "Julia Childs" of Congo Brazzaville in Paris. She holds court here. Her monkey, Rambo, clamors across the counter among rows of rum bottles, and Julie runs back and forth from the tables to this closet-sized kitchen. She's thrilled to show me just how to use all the exotic vegetables she has bought at the market to make dishes like saka saka, and the staple that replaces bread in Congo Brazzaville, and in much of Africa, fou fou.
Yekka-Romaine: "Ca c'est la semoule je fait de fou fou le fou fou remplace le pain . C'est la manoc." (Translation: "This is the semolina, with which I make fou fou. This is manoc.")
Fou fou is made with semolina and manoc flour. It has the consistency and look of an oversized dumpling. Julie wraps the fou fou in a big green tree leaf, from the manoc tree, she tells me. We can barely turn around in the kitchen, but now she is going through drawers, pulling plastic bags out of the refrigerator.
Yekka-Romaine: "Ca c'est une legume d'afrique central comme l'epinard. (Translation: "This is a vegetable of Central Africa.")
Julie has taken a big plastic bag out of the refrigerator. It looks like pot. It's like spinach.

There are small green kerosene lanterns on each table. My friend Tanawa is staring into the flame, thinking about Brazzaville
Tanawa: "Quand j'etait petit ..chez nous pas d'electricite donc tous les village trouve ca C'est la lampe a petrol." (Translation: "When I was small, we didn't have electricity in our house or the village. I did my homework and studied guitar by the light of a kerosene lamp. We called them "loosyall.")
For Tanawa, places like Julie's are like going home. He meets his old friends here. The restaurant isn't just about eating; people will start coming around midnight to play music and sing. And, there are other small Congo Brazzaville hangouts absolutely not listed in any guidebook. These nightspots are called n'ganga. Holes in the wall, like Chez Mere Verro and Chez Belle Cos, they're a cross between a restaurant, social club and juke joint. On most nights, people will eat and talk and dance, carving out a corner of Paris for themselves. But the glue that holds the Paris African community together, is the music played by D.J. Robert Brazza every night on the radio station Africa Number One.
Brazza: "The beginning of this music is traditional, just like in the village. You have somebody who is calling the crowd, and then the party begins and everybody dances."
I visit with Brazza in the studio in the heart of Chateau Rouge district. He has 20 million listeners in Paris and around the world, but I'm here because I heard that locals and visitors can just drop in and hang around.

He's a tall handsome man with a passion for bringing old and new Africa to his audience. He tells me about the new dances visitors can see in all the Paris African clubs -- dances like tombolo, logobee, chalufu.
Brazza: "And you have the mapuka dance, which was a very controversial dance because you have to dance with your butt, move your butt. It was mamas and old grandmas who were dancing it when they were in the village or going to the river just with women. When it came to the city, people were dancing it not in a good way, wearing short skirts and scanty clothing. It was not right for the culture. It's always hips moving from left to right, hips moving. It's from the village."
And, I learn about the legend Franklin Boukaka -- who was so political in his lyrics, he was assassinated -- and about the singer Papa Wemba and the crazy mix of Latin America and African music, resulting in a Congolese rhumba rock.
Brazza: "If you are listening to me, first thing for Congolese music is rhumba music, which is the base for Congolese music: Congolese rhumba. The song is really famous is Mario. If I had to sing it, it's..."(he sings).
Robert Brazza and Africa Number One aren't in any Paris guidebook either, but for travelers like me, this radio station, the small restaurants, and the market are secret doorways into a special Paris, a new Paris and an Africa in diaspora. I'll never get to Congo Brazzaville, nor to Kinshassa in the Democratic Republic of Congo -- too far, too dangerous, but I can go to Paris.
Brazza: "At 193, that's our address at rue de Fauberg Poissonieres. That's our address. You can come on by. The show is from 9 p.m. You can ring the door, is open, and you'll be welcome -- meet some African artists, and you cannot miss it."
In Paris, I'm Judith Ritter for The Savvy Traveler.

Savvy Resources:

Where to stay:
Hotel Ambassador: Great art deco renovations to this first hotel in Paris that holds the dual distinctions of being the hotel where Charles Lindbergh was feted after flying across the Atlantic and the distinction of being the first hotel in Paris with bathrooms in every room.
16, boulevard Haussmann
75009 Paris - FRANCE
Tel: (33) 01.44.83.40.40
Fax: (33) 01.42.46.19.84
http://www.hotelambassador-paris.com/

For a self-guided tour of Congolese Paris:
Contact Discover Paris. This group designs personalized self-guided tours of Paris including one of African Paris and African-American Paris.
http://www.discoverparis.net/

Where to eat:


Brazza La Verte: Featured in the story: 12 rue Marcadet, 75018 Paris, telephone 01.42.54.04.62. Metro: Marcadet-Poissonniers. Open seven days a week, African music on Thursdays, Fridays, Saturdays and Sundays. (go late)
Restaurant Petit Tam Tam: 137 Amelot (live music)

Information on Radio Africa #1:


E-Mail: africa@africa1.com
Address: Metro Barbes, 193 Rue de Fauberg Poissoneere

Personal guide for African art in Paris:


http://www.discoverparis.net/

Transporation for exploring Africa in Paris:


Taxi driver who knows all the Congo/Brazzaville hotspots: call Tanawa Mayouko,011-336-16-02-27-01 (cell)
Air Canada: Offers daily flights from Montreal with United connections from US cities. They just launched a seat sale for Paris: www.aircanada.ca
Continental Airlines: has many non-stop flights from New York and Houston. 80% off seat sale for business class for Thanksgiving and Christmas.
www.continental.com

Return to Feature Archive