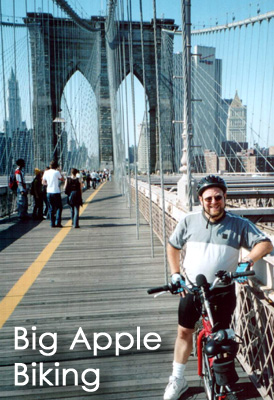 Photo: Jeff Lunden
Reporter Jeff Lunden lives in one of the busiest and most "alive" cities around: New York City. Biking in such an urban area takes nerves of steel -- it might even sound like a bit of a death wish to the uninitiated. But somehow, Jeff had a change of heart and decided to brave the streets of Gotham on two wheels.
Biking NYC

By Jeff Lunden 10/18/2002
Last winter, I looked in the mirror and decided to do something about my middle-aged spread. So, I went on a diet and, since diets don't work without exercise, when the spring arrived, I bought myself a bike. I live Brooklyn, on the edge of Prospect Park, and I figured I'd use the bike to ride around the park's 3.5-mile loop. But after a while, I found myself wanting to go somewhere. I picked up a couple of guidebooks and discovered that not only is New York City a great place for the arts and commerce and food, but it's also a great place to go biking! Noah Budnick works for Transportation Alternatives, a biking advocacy group.
Noah: Once you feel comfortable riding your bike on the streets, not only the simple joys of riding, but the unarguable convenience of the bicycle become crystal clear. If you ride your bike, you always have a parking space and you never have to worry about money for a cab or a subway token. And, you never have to wait for the subway to come either!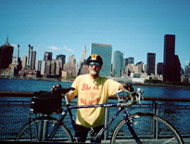 Photo: Jeff Lunden
This past summer, I rode all over New York, pedaling down the bike path to Brighton Beach, where I had borscht on the boardwalk, crossing the Brooklyn Bridge and having dim sum in Chinatown -- OK, so even on a diet, you gotta eat. And, I rode up and down the Hudson River Greenway, on the West Side. This 12-mile route is the backbone of the city's bike network, says Noah Budnick.
Noah: On an average weekend, over 10,000 people use it.
And, it's not hard to see why -- it's a great ride! You can go all the way from Battery Park up to the George Washington Bridge. Downtown, you zip past traffic along West Street …
(traffic sounds)
…and are treated to fantastic views of the Hudson River and Jersey Shoreline.
Jeff: This is one of my favorite places on the bike path: this is the Trapeze School New York, and it's exactly what you'd expect.
As I rode by this open-air school, a skinny kid hooked up to a cable prepared to jump down into a net below, while lots of other kids looked up in anticipation. The Greenway is a biker's paradise -- no cars or buses or trucks. But at some point, you've got to brave the streets. There are some simple rules: always wear a helmet, have a bell…
(bell ringing)
…keep off the sidewalk, obey traffic laws, and …
Noah: Watch out for opening car doors. It's, by far, the most common crash for cyclists in New York City.
This is called getting "doored." And, I've gotten a little too close a couple of times. Joel Seidenstein runs ToursbyBike.com.
Seidenstein: We purposely choose low-density residential neighborhoods, not during rush hour, not on crowded, congested streets.
Thank god.
Seidenstein: We like to say that we take you to sites the typical tourist seldom sees.
I joined Joel for the "tour of the month." We started at a bike shop in Manhattan, then rode a Swiss-built cable car across the East River to Roosevelt Island. Joel gave me a thumbnail history of the island, which started out as a repository for the city's undesirables, until it became a highly prized housing development.
Seidenstein: Charles Dickens visited Roosevelt Island in the 1840s and he was taken on a tour to what was then called the 'lunatic asylum:' 'The moping idiot, cowering down with long disheveled hair. The gibbering maniac, with his hideous laugh…'
Not your average tour, with or without a bike. We rode on to a waterfront park in an old industrial section of Queens with spectacular views of Manhattan. We rode through Hispanic neighborhoods, a Hassidic Jewish neighborhood, a Polish neighborhood -- where we had a delicious and inexpensive, lunch -- all the way to the Brooklyn Bridge, and over it.
Lunden: Now, we're starting the curve and upgrade, and straight ahead are the gothic towers of the Brooklyn Bridge.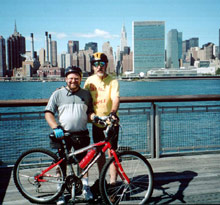 Photo: Jeff Lunden

In all, we rode 18 miles, and I had a great time, visiting new places, learning about the city's history, and getting plenty of exercise! There are literally hundreds of bike lanes and bike paths in New York City -- and over one 100,000 people use them every day. The city produces a free map, which you can pick up at bike stores and rental kiosks, and it's an invaluable resource, filled with biking tips, tourist highlights and listings of cycling organizations. Many of these groups sponsor bike events, like a monthly midnight ride in Central Park.

While I was riding along the Hudson River Greenway the other day, I loaned my bike pump to a young cyclist from Amsterdam.
Jeff: Where have you been riding, here in New York?

Young cyclist: Oh, through the whole city. It's very nice to ride on a bicycle through New York, I think. Even on Times Square -- I mean, why not? (Laughs)
As long as you watch out for those doors, I couldn't agree more! For The Savvy Traveler, I'm Jeff Lunden in New York.
Return to Feature Archive