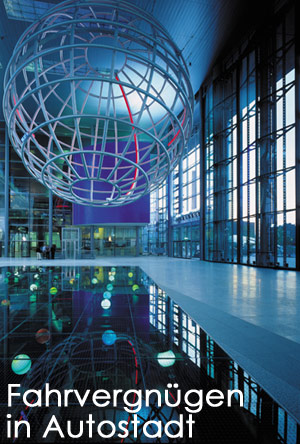 The Autostadt in Wolfsberg, Germany. © Volkswagen of America, Inc.
Germany has a long tradition of building some of the world's finest cars. Think BMW, or Mercedes. And, the relationship between Germans and their automobiles is often a close, almost intimate one not seen in many other places on the globe. Now, Volkswagen has tapped into that special bond by building the Autostadt, or "car city." It's a theme park of the automobile about an hour west of Berlin by high-speed train. The Autostadt turns the process of picking up a new car into a major event for the whole family, one that's designed to be educational, emotional, even inspiring. According to VW, taking possession of your new car shouldn't just be signing on the dotted line and picking up the keys -- it should be an "experience." Kyle James drove on over.
Fahrvergnügen in Autostadt

By Kyle James 10/11/2002
The Autostadt stands in sharp contrast to Volkswagen's original red brick factory next door. VW's 21st century complex is all light and air, landscaped pavilions and modern architecture.
(sound: employee talking to family)
In the reception center, done up in muted yellows and earth tones, the Hoheisel family looks over brochures as a smiling VW employee explains what they can do during their day here. And, they get an appointment to pick up their black VW Polo at 4:00 p.m. That leaves them several hours to explore what the Autostadt -- and German engineering -- has to offer.
Monica: (speaking German)
Monica Hoheisel says the family wants to check out the vintage cars in the museum and let the kids have a little fun. And with that, the family of four descends the purring escalators into the glass and steel, cathedral-like entrance hall.
(sound: New Age music from hall)
I'd like to tag along with the Hoheisels, but Volkswagen says that might lessen their enjoyment of the park. So, I take my plastic ticket, slide it into the machine at the gate, and strike out on my own.
(sound: kids playing)
If I were still under 12, I'd make a beeline to the go-cart track, where kids can race around while a computer times each lap to the tenth of a second. Or, I could learn a few rules of the road and get my very own kid's driver's license, picture and all. Future drivers with licenses in hand go outside and buzz around in mini VW Beetles on scaled-down city streets -- complete with stoplights and complicated traffic signs. It's all very German.
Unfortunately, there's no way I can fold my legs into these things, so after a latte at one of the Autostadt's seven restaurants, I head upstairs to something called "Ways to Quality." It looks like a little theatre, and I envision a high-concept Volkswagen ad. But then we're told to strap ourselves into our seats.
And suddenly, we're rocked and jolted as a computer-generated landscape takes us on a kind of virtual roller coaster ride.
Bettina Olsen: It's kind of psychedelic. I expected a joyride in a Beetle or something, but it's not -- it's images and movements. It does make an impression on a person.
Bettina Olsen came all the way from Denmark for a day at the Autostadt. She's not even picking up a car. She just wanted to see for herself this "Disneyland of the automobile" that has become Germany's second most popular theme park, with more than 6,000 visitors a day.
Bettina: We thought that it would be more commercialized, but it's not, and actually, that's nice because you get to relax your mind a little and just take it in.

(sound: nature films)
And, taking it in almost puts me in a meditative state as I wander through a darkened room filled with rotating screens showing nature images. Then, I lose my way in a tunnel that I have to grope through as blinding white fog swirls around me.
I have to make it to the third floor before I really get to the cars. Here, you can design your own Lamborghini -- down to the last rivet -- watch how an airbag opens when a more humble VW Golf slams into a brick wall, or take a blustery walk through a wind tunnel. For the really adventurous, there's even a machine that simulates a roll-over accident. Miriam Scholz was having a hard time getting her kids out of the vibrating chamber.
Miriam: The kids have fun, much fun. We are going on holiday and we just stay here for a few hours, and then we go on. My husband was here a few months ago and he said we had to go here with the children.
Although it's kid-friendly, in the end, the Autostadt is a very much about grown-up things: cars. And, the climax for the 500 or so car buyers a day who come here with their families is their appointment at the car pick-up center. It's a cavernous hall with the feel of an airport lounge, where a digital sign board directs customers to their personal car counselor. If they're lucky, they might catch a glimpse of their new vehicles descending on car elevators inside two 20-story glass cylinders outside.

I spot the Hoheisel family arriving at the appointed time. They're soon hovering around their shiny new purchase. Their counselor goes over the car's features in exacting detail before a photographer takes a picture of them standing proudly in front of the new member of the family.
Monica: (speaking German)
Monica say the Autostadt was well worth the trip. The kids had good time, her husband got to see the car museum, and they saved about $500 on delivery fees. All in all, a nice day out for the family, she says, and a good marketing idea on the part of Volkswagen.
It is a clever idea -- turning Volkswagen into a sort of holiday destination and bringing together three things so imbedded in the German psyche: a passion for cars; a respect for precision; and a love of travel. With all that, the Autostadt can't help but be a success.
In Wolfsburg, Germany, I'm Kyle James for The Savvy Traveler.
Return to Feature Archive