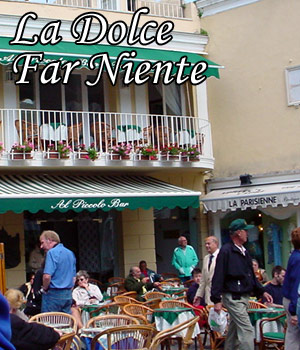 Al Piccolo Bar, Piazza Umberto I. Photo: Susan Van Allen
Ever prided yourself on being a savvy traveler, preparing for an authentic Italian experience? Well, Susan Van Allen did just that, even learning the correct pronunciation of the Italian island of Capri: "CAH-pree." But after traveling 6,000 miles and arriving at Capri's famous piazetta with dreams of relaxing at a café, she was faced with a dilemma: Which café? Should she go to one with other tourists, or find one where the locals make fun of the tourists? Funny thing is, Susan finds out it doesn't really matter...
Postcard: La Dolce Far Niente

By Susan Van Allen 10/4/2002

The view from Capri.
Photo: Susan Van Allen

"It's CAH-pree, not Ca-PREE," my Italian tutor corrected me when I told him I was off to visit the famous island. So, for weeks before I left, at dinner parties with my friends in Los Angeles, I threw "CAH-pree" into conversations. The pronunciation got raised eyebrows as if I'd said, "Pass the tomAH-toes," but I didn't care. I prided myself on being a savvy traveler, educated and prepared for the authentic Italian experience.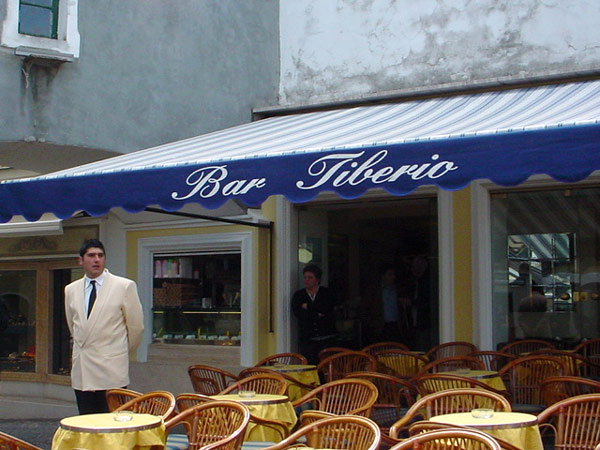 Bar Tiberio, Piazza Umberto I
Photo: Susan Van Allen

Then, after traveling 6,000 miles by jet, hydrofoil and funicolare, I landed in Capri's famous piazetta and was immediately faced with a dilemma. Tour books call this chic spot "the living room of Capri," and recommend visitors sit at one of the cafes to relax and watch the world go by. And, here's where my problem came in: which caffe? I scoured my books for a recommendation, but found nothing. All four had the same rattan tables and chairs, the same attentive waiters identically dressed in cream-colored jackets, same prices -- only the names were different. The skeptic in me took over: One of these must be where the locals go to chuckle at the visitors who have chosen poorly, those who say "Ca-PREE."

My traveling pal, Meredith, too thirsty to care, said: "Look, they've got different color tablecloths. Let's pick our favorite color -- the green one." She sat herself at Il Piccolo Bar, and ordered a limoncello.

But I, not about to be taken, headed down a maze of alleys. Eureka! Locals! Two men in caps driving a rickety cart full of lemons…surely, they would give me the scoop. With twinkling eyes they answered: "All the same. Different owner." I got the exact same answer from the almond-eyed girl in the tabacchi and the gelato seller. Did the Tourist Board give them this script?

Finally, I cornered a gold-toothed woman pushing a laundry cart. She gave me a deep warm stare, chuckled at my wrinkled brow, and kindly slipped me her version of "the goods": Il Piccolo Bar (the green one) is the oldest, where the waiters from all the restaurants drink; Il Gran Caffe is for the rich; Il Tiberio is for the young; and Caffe Caso, "my nephew owns." But the truth, she said, "All the same." She squeezed my hand and turned me back to the piazetta with, "Non preocupparti (Don't worry) Enjoy Capri."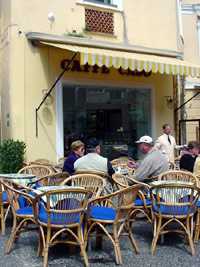 Caffe Caso, Piazza Umberto I.
Photo: Susan Van Allen

Back at Il Piccolo, Meredith was smiling, waving and holding up a glass of limoncello. Did we belong there with the waiters…or with the rich, the young, the nephew? It didn't seem to matter as I dropped my shoulder bag full of books, sat at the table, and took a cool sip of limoncello. I stared up at the big, blue, cloudless sky, inhaled the blossom scented air, let the music of laughter and languages from all corners of the world wash over me, and realized: There are some places where it actually is all good. A few more sips of limoncello, and what the locals call "La dolce far niente," the sweetness of doing nothing, took over. No rights or wrongs, no worries -- the authentic Italian experience I had traveled 6,000 miles for had begun…in a place where there is no place for skepticism.

Return to Feature Archive