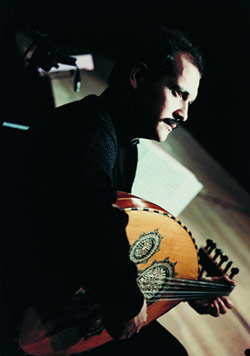 © ECM Records. Photo: J.P. Larcher
Eric Clapton of the Oud: Anouar Brahem

10/4/2002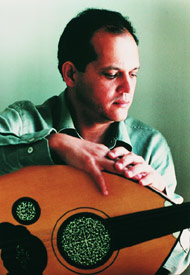 © ECM Records
Photo: Moncef Fehri

Music traveling across borders is an important theme on The Savvy Traveler. You may know the musician we're featuring today. His name is Anouar Brahem and he's a master oud player. The oud is a centuries-old Arabic instrument, a precursor to the guitar, and there are critics who say Anouar Brahem is to the oud what Eric Clapton is to the electric guitar.

Since Anouar is Tunisian, he grew up with many different influences that have come to that country because of its location. The Arab and Asian sensibilities of Turkey and India affect the music he writes. There are jazz touches from the European/Mediterranean countries close by, and the Maghreb influence of Morocco and N. Africa floats in every now and then, as African rhythms drive a lot of his songs.

Anouar is a traveler, and his music is well-traveled as well. During his interview in The Savvy Traveler studios, Anouar played this beautiful oud right in front of us. You can hear "Astrakan Café," from his album by the same name, below.
Listen to Anouar Brahem performing "Astrakan Café" live in The Savvy Traveler studios.
Anouar Brahem's soothing oud sounds take you thousands of miles across the planet. It's like being transported back to an Arabia of centuries ago. His newest CD is called "Le pas du chat noir" ("In the footsteps of the black cat").
Return to Feature Archive