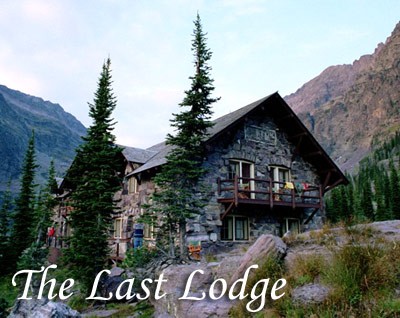 Sperry Hotel Building. Photo: Lanny Luding.
"Closed for the season" signs are up at resorts and campgrounds around the country. Winter will soon be upon us, so it's hard to think back a few weeks to summer -- far less, to start contemplating reservations for next year. But there are some places with a short season where advance booking for next year is almost mandatory. One such venue is Sperry Chalet, the last lodge of its type in an American national park. It's open only a few months a year, which makes early reservations important. Gordon Black secured a berth high in the hills and strapped on his hiking boots to bring us this report.
The Last Lodge

By Gordon Black 10/4/2002
Barb, Sperry Chalet crew: "Good evening everyone and welcome to Sperry Chalet. This is the Sperry crew. We want to introduce ourselves and tell you who we are and what we do for you. My name is Barb and I'm from Ft. Collins, Colorado and this happens to be my fifth summer up here as a manager."
To a hiker, Sperry Chalet emerges into view like a café on a desert highway. But Sperry is no alpine mirage. It seems to grow out of the granite as though glaciers long ago sculpted three buildings in this high mountain pass for your to rest your weary feet. If the complex looks like what you'd find in the Dolomites, that's because it was built by Italian stonemasons specially hired for the job. And the buildings were built to last. They have survived nearly 100 winters on an exposed location that straddles two ranges of towering, jagged mountains. And, if you get here, you've earned the right to rest those weary feet.
There are two routes to Sperry Chalet, and I took the shorter one -- just under 7 miles. It starts amid the relatively fat air at 3,300 feet and rises steeply in places through forest for the first couple of hours.
(sound: walking and breathing noises)
We're climbing now, now above timberline, or almost above timberline. You can look back and see the mist in the valley we just climbed up, so we are actually above the clouds at the moment, or more precisely, between two layers of clouds: the clouds down in the valley and the clouds directly above us. We are into this area where there is a lot of rock, and the trail seems to have been cut into the side of the hill. Looks like there are some horses heading down the trail. I think the etiquette is that hikers give way to horses and stand on the downhill side. So, here, I stand as this train of ponies comes down the hill.
(sound: horses)

Gordon: "What's it like up there on a horse? King of fun?"

Rider: "We'll let you know when we get off. Or probably tomorrow."
This is pretty tricky footing for a hiker. I'm sure those horses are very sure-footed. At least, if I were on the back of one I definitely want it to be very steady coming down this trail because there are drop-offs that descend down for several hundred feet at a time.
I doubt I'd be comfortable bouncing around in the saddle above those drops, but I do owe a debt to earlier horse-riders. They were the whole reason that Sperry and other lodges were developed, says Dave Dahlen, Glacier's head of interpretation and education.
Dave: "The kind of people who came here were the kinds of folks who could afford to get on a train cross-country and pay for all the finest accoutrements, and head off into the backcountry. It cost quite a bit to take this kind of horse trip to a place like the Sperry Chalet, or one of the other chalets."
Dahlen says railroad baron Louis Hill championed the idea of Glacier becoming a national park and had built a series of chalets a day's ride apart. Of course, back then, scenery was meant to be enjoyed with some comfort. Nowadays, it's what can accurately be called "rustic." Most people don't mind, says Barb Warrington.
Barb: "The biggest complaints of people who want more is probably the amenities. They want hot water or showers, and they want to be able to drink their drinks in the dining room, which is not allowed."
Tea, coffee or lemonade are the beverages of choice, and don't try any funny business.
Barb: "We've never actually had to tell anyone to walk back down the trail, but it has been close a couple of times."
It's a sobering thought that the next comfortable bed is 3,300 feet below. The idea of a real bed and a dinner that's not made from freeze-dried food is really why 16 of us have spent more than a half-day getting to Sperry.
Marjorie Henk: "It is a difficult trip, but it was worth it."
Marjorie Henk says she and her husband, Roger, wanted to visit Sperry for years.
Marjorie: "And, finally, this year we did it because I retired. We are married 40 years and I think it is a great place to celebrate being together for 40 years."
Jerry Schiffer, from Columbus, Ohio, was also marking an anniversary.
Jerry: "My wife and I came out in '63, and we'd been married and had driven straight through from Ohio. Our first hike was Sperry Chalet, which is where we are right now. We only had 90 cents, so we camped outside of the chalet and spent 50 cents on a bowl of soup."
Schiffer, who flew out to Montana in his own plane, now owns a multi-million-dollar plastics company. At $150 for bed and board, Sperry is neither Motel 6 nor the Hilton. It's the last wilderness hotel in the country, the gateway to some of the most beautiful alpine terrain in the "lower 48," and where else do you get to personally meet all the staff?
Terry, staff, Sperry Chalet: My name is Terry, from Brooklyn, New York. I'm the baker. I spent 10 weeks in 2000. My reminder would be, we have flashlights available. Oops, did we do that one? Okay, trail lunches. Everybody gets a trail lunch tomorrow.
With no electricity in the separate hotel building, those flashlights are needed for nocturnal visits to the bathroom. This, by the way, is the most-high-tech aspect of Sperry. Solar-powered composting toilets take care of things ecologically.
Of course, it's hard to get really excited about a composting toilet. Here's something that might prove a bit more attractive: After dinner, a group of us gather outside to watch cotton-wool clouds fill the valley below. Darkness creeps up from the valley floor and envelopes the lodge. We climb up stairs to plain rooms, simply furnished, tuck in to a comfortable berth, and are lulled to sleep by a gentle rustle of wind outside, and a distant sound of falling water.
(sound: falling water)
I dream of mountain goats and the glacier I'll hike to tomorrow.
In northwestern Montana, at 7,000 feet, I'm Gordon Black for The Savvy Traveler.
Return to Feature Archive