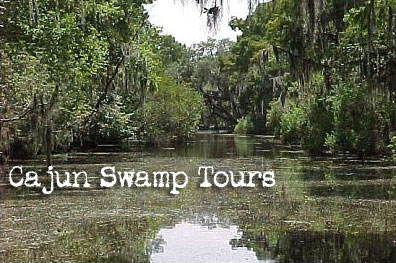 Credit: Captain Cyrus Blanchard
Most people travel to New Orleans for the food, the booze and the music. But a mere 30-minute drive from the chaos of the French Quarter, sits an even wilder place: the Louisiana Bayou, where a lone Cajun is taking on the tourism industry and those that would destroy his beloved waterway. Michelle Kholos traveled to the swamp to meet Captain Cyrus Blanchard and take his Lil' Cajun Swamp Tour.
Cajun Swamp Tours

By Michelle Kholos 9/27/2002
(sound of alligator eating)
This is the sound of an alligator eating a marshmallow.
And you thought alligators only ate the rotten remains of other living creatures. Not so. Captain Cyrus Blanchard learned this for himself when he started giving swamp tours about 16 years ago.
Cyrus: I knew that I had to keep them on top of the water for tourist people to be able to see them. I mean, I could give them something that's he'll go underwater to eat, he'll eat it. But you're not going to see him do it. That's why I keep him on top of the water with the marshmallows. And the marshmallows don't hurt them -- they sweet as sugar. All they does is melts in them. See that alligator right there, or a turtle or something?

C'mon. C'mon Eric. C'mon Paul. See, Eric is a six-footer. Eric is a six-footer and Paul is a nine-and-a-half footer. See the difference in the size? C'mon!
Cyrus knows all the alligators by name. He should -- he named them, and they're on his 1,400 acres of land. Cyrus is comfortable on the bayou. He was born and raised on a houseboat 20 miles from the Gulf of Mexico.
Cyrus: My people came here from Nova Scotia 1755. I was born and raised French. I went to school in the fourth grade to talk English.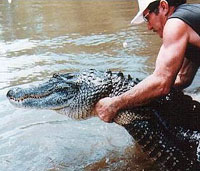 Credit: Captain Cyrus Blanchard
Whereas most of us went to school by bus, Cyrus traveled by boat. He says school was shocking because he didn't know there were that many people in the world. Matter of fact, despite his ease and good humor with tourists, you sometimes get the impression Cyrus prefers alligators to people. He's spent his whole life with alligators, so he understands them. He feeds them, fights for them -- he has even wrestled them -- but what he absolutely won't do is eat them.
Cyrus: Alligator meat is not good eating. It's nasty. Alligator meat smells just like what it eat. In other words, you can take a fish out of this water and you can fillet them right on the spot, salt and pepper him, batter and fry him -- no problem. If you take alligator meat out of this water and you cut the tail off and you try to fix it, I guarantee you're going to throw up because it smells bad. You see those people in the city that feed alligator meat to the tourists? Know what they got to do with it? They go to marinate it with Italian dressing and garlic for about a week to get that nasty smell out of it. And, then they make a gravy with it and put a lot of Tabasco sauce on it so you can't taste the nasty (bleep) out of it.
Remember that the next time you go to New Orleans and Cajun-spiced alligator is served up as the gourmet special. And, that's not the only tip Cyrus has for tourists traveling to the Big Easy:
Cyrus: Oh, the city ain't nothing but a big rip off, man. Big rip off.
You can find a couple dozen swamp tours in the area, but it's Cyrus' attitude that attracted me to Lil' Cajun. On his Web site is a note posted to tourists that reads: "When making tour reservations, please do not involve hotel personnel. They require a deposit from you. They pocket your deposit. This deposit is what we call a 'kickback.' We are one of the few who do not believe in dealing with kickbacks. They are wrong, dirty and underhanded."
Cyrus: I'm about my bayou, my state and my heritage -- that's what I like to promote. And also, I like to tell people what's going on to keep them from being ripped off when they come to the city, because our city of New Orleans is nothing but a big rip off. And if people don't know that by now, they'll learn when they go back home and their pockets are empty. Like I said, it's all because of the kickbacks -- and that's wrong. It's wrong for the tourist people to be caught in a trap that way.
But it's not just innocent tourists that Cyrus is fighting for.
Cyrus: There's a big bald eagle. There's one on the tower right there, and there's one over there. See how big? That's a great big one. And what's happening -- they used to be on my property and because of those airboats, they don't want to stay around no more. So, we're having a lot of problem with that. That's why we're trying to get the Sierra Club involved, you know, with us with the fight with the airboats. If I can get the Sierra Club involved then I think I can get a good fight.

(loud sound of airboat)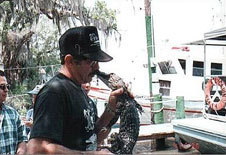 Credit: Captain Cyrus Blanchard
Airboats skim the surface of the water at very high speeds and they're really, really loud. You can hear them from miles away. Cyrus says that not only do airboats scare the eagles and alligators, they also contribute to the destruction of the wetlands. He says that a football field of land is lost to erosion every 15 minutes in Louisiana. But although Cyrus is fighting for the tourists, and fighting for his bayou, he's not always in the ring. He clearly loves showing tourists around, full of jokes about the locals.
Cyrus: Boudreaux and Thibodeaux went fishing one day, and while they was out fishing, they got a bottle that came and hit against the boat. When the bottle hit against the boat, Boudreaux picked up the bottle and the genie come out of the bottle and she said: 'I'm a genie.' She say, 'I'm here to grant you two wishes today, anything you want in the whole wide world.'
That's about all I can let you hear. The rest is not for delicate radio ears.
So, if you're down New Orleans-way, and you've tired of the drunken scene on Bourbon Street, head a few miles out of town and visit the Louisiana bayou. The alligators and all other local creatures are well worth the trip.
From New Orleans, I'm Michelle Kholos for The Savvy Traveler.
You can see photos of Captain Cyrus playing with the alligators by going to the Lil' Cajun Swamp Tours Web site, http://lilcajunswamptours.com.
Return to Feature Archive