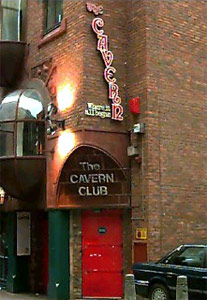 Every year, thousands of people from around the world gather in Liverpool for the Beatles Festival and convention. The festival brings together sound-alike Beatles bands from across the globe to rock the city to the sound of the "Mersey Beat." It's a chance to get out your John Lennon glasses, put on your '60s suit, and "Twist And Shout" in the home of the Fab Four. We sent The Savvy Traveler's Martin Stott to spend a Hard Day's Night checking out the sights and sounds.
Strawberry Fields Forever

By Martin Stott 8/23/2002
I guess, for some, this is a nostalgic pilgrimage -- a chance to see where the Beatles grew up, to visit the real Strawberry Fields, a homeless shelter, and the Cavern Club. A trip down two streets: Penny Lane and "Memory Lane."
So, here I should tell you I was born in 1965. Though I like Beatles music, I'm too young to remember the group playing, so it makes sense to start this journey at a museum: The Beatles Story. It opens by taking us back in time to post-war Britain, and the new phenomenon of "the teenager."
Narrator: For the first time, it was no longer hip to look like your parents. In America, Alan Freed a radio disc jockey had coined the term rock and roll and bill Haley's fade…
The narrator may sound as hep as your grandparents -- especially, when he tells us "the joint was really jumping" -- but this is a really good museum. It tells you everything you need to know about the Beatles, and a lot more: about their early days in local clubs and their formative months in Hamburg. There's a mock up of the Abbey Road recording studio and the Cavern Club.
I find the story of the rise of the Beatles fascinating, and I spend quite a bit of time looking at the exhibits. But it's time to go and hear some live music...
Across the city, there are free open-air venues with groups playing Beatles hits -- some in costume and wigs trying to sound and look authentic.
On the Saturday evening, there's a concert at the Royal Court Theatre in Liverpool; the tribute band "Hard Night's Day" from America are performing the very same set the Beatles once played in Hamburg.
In those early days, the Beatles played cover versions of American hits. So, what you've got here is an American band, pretending to be an English band, pretending to be an American band. I discover the man behind me is Dutch and collects Beatles dolls, the man to my left is a Swede and hardly speaks any English, and to my right is an American couple who've paid $2,500 each for a 10-day Beatles vacation. The British don't have a monopoly over eccentricity after all -- the whole world's mad.
Joyce Wemmer: The Beatles has been an obsession of mine since I was 3 years old. Liverpool's my 'holy land,' what can I say.
Joyce Wemmer is from Connecticut. She tells me it has been an emotional holiday -- especially, when the group visited the Abbey Road studios in London and the organizers played John Lennon's Imagine.
Joyce: I started trembling…got tears in my ears…
The following day I decide I ought to go on the "Magical Mystery Tour," a year-round bus trip to the major Beatles sites, but there are no tickets left. Instead, I get the last ticket for the Fanatics Tour. Fanatics? You're not joking. This is a trip that completely misses Strawberry Fields and Penny Lane. Instead, we drive 20 minutes to see the school where Ringo Starr's first wife once went.
You think I'm joking don't you?
And, people actually get out to take pictures! In 3 hours, we see all the obscure little church halls and social clubs the Beatles once played in -- and some they only might have played in! We stand taking photos of the terraced house where Paul McCartney first lived, while the poor owner cleans her windows inside looking embarrassed. And, I meet Noreen Daniels. This is her 19th year at the festival, and 19th time on the Fanatics' coach tour.
Noreen: I just love the Beatles, and I'm still just as fanatical..
I really don't comprehend what makes people quite so ….nuts. But I may be about to find out. At the same time as the festival is running, Liverpool plays host to a Beatles convention. This is where the addicts come to share their affliction.
For one day, Liverpool's Grand Adelphi Hotel has been turned over to them. Live look-alike Beatles bands are performing in two of the bars, another room's filled with a giant screen showing film clips of Beatles, and the main hall is packed with stalls selling memorabilia.
Alistair Taylor: One Saturday morning, I got a phone call from Paul saying I want you to get £ 800, take it down to Brixton prison, and ask for Mr. Scott.
In the main auditorium a large audience is listening to Alistair Taylor. He used to be a sort of "fixer" for the Beatles. He tells how a musician who ran a reggae band called "o bla dee o bla dah" wrote to Paul McCartney from prison claiming the Beatles had used his band's name for the song after seeing it on flyers. The man was in prison for not paying maintenance, which is what we call alimony.
As I watch the audience all attentive, I begin to wonder whether for many this isn't so much a trip down Memory Lane as a journey to Fantasy Island. They like the Beatles so much, they want to be close to them. And, this is as close as they can get: meeting someone who once worked for them, knowing the obscure silly stuff about them that only their close friends and family would know, even owning a tiny part of them by buying memorabilia. But, hey, everyone's happy, and actually I am too. It's quite fun tagging along for the daytrip. Next stop: real holy ground.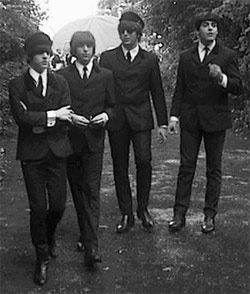 A Beatles tribute band.

Watching and listening to the look-alikes, it's not hard to imagine you're back in the '60s listening to the real thing.

That's one of the American groups, "A Hard Night's Day."

Or, you could have the Australian version.

Then. there's the all women band, "The Beladies," from Argentina

And, finally from Mexico, the band "Help."

I know the feeling. In the end, there are only so many international imitation Beatles bands a sane man can take….

From Liverpool, I'm Martin Stott for The Savvy Traveler.

Return to Feature Archive