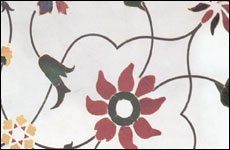 As a travel journalist you're frequently offered expense-free trips by tour operators, airlines, hotels, even the tourist bureau of a country itself. The idea is that you'll enjoy a place so much, you'll want to tell everyone about it. Michelle Kholos recently took her first trip to India, paid for by the Oberoi Hotel chain. She learned that even the most comfortable, pre-packaged press trip can turn you on your head.
An India Journal

By Michelle Kholos 8/16/2002 (Originally aired 7/27/2001)
India is underneath my skin. It's in my hair, my ears...beneath my fingernails. I wake up in the middle of the night and wonder if I'm still there. But then I notice the sound of the pounding surf and I remember that I'm no longer in India but here, back home, and safe. I stumble to the bathroom to search for something to help me sleep. Maybe if I can make it though through the night I can get back on California time. I unzip my cosmetic bag and the savory smell of curry rushes out and envelops me. I hope it will take a long time for the fragrance of India to leave my things.
I think of Nat's advice. Nat was one of our guides. He's been to India about 30 times and he's in love with the country. Nonetheless he always says people should take a vacation after going to India. It's not the easiest place to travel.
So instead of going straight to my house when I landed in LA last night, I came to this friend's place on the beach here in Malibu. I listen to the waves crashing and think about color and curry and turbaned men bowing and offering me hot towels. I think of all the scarves I didn't buy. I wish I had hundreds of them to decorate my walls, wear on my head, drape around my body like the beautiful Indian women who color the countryside. I consider painting my walls at home red and turquoise, plastering orange canopies across my ceiling. I want the best parts of India with me and the rest I want to forget. But, like the colors of India, even the poverty is vibrant. The crazy roads with the crazy drivers are vibrant. There is nothing in India that doesn't stand out. It's amazing that anyone sleeps there.
At first I was opposed to staying in India's luxury hotels. It didn't seem right, somehow, in a place with such extreme poverty. Then, before I left, I read a book called, "An Area of Darkness" by V.S. Naipaul who's of Indian descent. In the book, published in 1968, Naipaul declared that India was the poorest country in the world. He wrote, "therefore to see its poverty is to make an observation of no value." And I realized that was probably true even today. Everyone speaks of the poverty in India. I was determined to be different. I would accept the reality and aspire to only make observations of value.
But the next thing I know we're touring Delhi and in a matter of hours I see a dead child's body being taken through the streets. I see men sleeping and getting shaved on the sidewalk. I see them peeing out in the open without shame. I watch fires burning by railroad tracks and I try not to see people pounding the side of our air conditioned bus.
It was the rickshaw ride that will stay with me forever. Shelia Donnolley was my seat mate. Shelia organized this tour. She had been to India before but this was her first rickshaw ride too.
Shelia: "Holy Cow, huh? how is this even a street? Everything is so crammed together."
We're having a good time but then our rickshaw gets stuck in traffic. We're at a standstill and a little girl about six years old comes up to us and starts pulling on my pant leg. She keeps saying what sounds like "Mama, mama, mama, mama" and holding out her other hand wanting money or maybe help, I don't know and I don't know why she keeps saying "mama" but the rickshaw isn't moving and neither is the girl. Shelia says not to look at her, that there's nothing I can do and I know she's right. I've already had the experience of being mobbed the minute I take out my wallet. So I just sit there exposed in the rickshaw, not looking at the girl but feeling her so strongly. And I hate everything then. Including myself. And the girl. And rickshaws. And most of all, right then, I hate India.

Back in my hotel room I'm relieved to see that my bed is turned down neatly. The sheets are crisp and white and above my bed is a buzzer for a butler to bring me anything I need at any time. I dive into my assortment of complimentary fruit and watch the sun set over the city of Delhi. The sky is peppered with pink and I wonder if, as in Los Angeles, the pollution makes the sunset even prettier. From my seventh floor window, the city looks like an impressionistic painting. The trees blend into buildings, blend into the sky. From this vantage point I have more perspective. I consider that maybe I read too much about India before I got here. I remind myself that just because I see a fire by the railroad tracks doesn't mean that it's a funeral pyre waiting for a widow. Just because I see a dirty child doesn't mean she hasn't had any food that day.

The next morning we catch a train to Agra before dawn. The Delhi train station is swarming with people, not just travelers but beggars holding out their hands. You hear stories of children who've been deliberately maimed so that they'll be able to collect more money begging. "That's why you shouldn't give them money" someone tells me, "they're just being used as a commodity. The money goes to someone else they report to."

How do you respond to a statement like that?

Before we left Delhi, our tour leader - an Indian woman - said that after visiting the small cities of Agra and Jaipur, we would come to appreciate the green and cleanliness of Delhi. At the time I couldn't imagine what she meant but driving through Agra I get it. The streets are made of dirt, and they're not just reserved for cars, trucks, busses, mopeds and bicycles. There are camels, donkeys, oxen, wild pigs, wagons piled high with cow dung that will be used for fuel. There are wild monkeys sharing living space with naked children and families in lean-to shacks. We are driven to our hotel in these beautiful classic English automobiles. They are painted a rich forest green and the interior have what looks like real wood paneling. Horns are constantly being honked in a mad attempt to avoid a collision. There are no lanes and to be perfectly honest, people drive like maniacs. I feel like a character in some kind of a hybrid, midaevil/futuristic video game, dodging all the animals and vehicles coming at us in a constant stream of activity.

Then, total silence. We drive into an enclosed area that houses the Oberoi hotel in Agra. We walk though a courtyard with flowing fountains and walls inlaid with designs similar to the Taj Mahal. We're greeted by people in beautiful Indian dress. They bow with their hands held in a gesture of prayer and say "Namaste," "Welcome". They sprinkle us with rose petals and offer hot towels, and orange juice. We are escorted individually to our rooms. A woman named Manisha shows me to my mine.
Michelle: "Oh, this is beautiful!"
Manisha: "This is your television with 25 visual and audio channels. This is your tea/coffee making machine, your hard liquor bar, the glassware for it. That's your butler button - should you need any assistance, the butler will be available 24 hours, and all the details of in-room dining with is 24 hours available is there in the service directory. Your telephone on the bedside table as well as the writing desk has a dataport connection should you wish to log onto your laptop. This is your walk-in wardrobe with the electronic safe."
She throws open the doors to my private balcony and I see the Taj Mahal majestic in the distance. I would like to sit there and take all of this in but we head back out to see the Taj up close and the famous Red Fort of Agra. When we get off the bus at the Red Fort there is a teenage boy standing right in front of the exit, and I do a double take when I see that this boy's hands and feet are gigantic - so swollen so they look like the hands and feet of a clown. I don't want to stare but I can't help it. He catches me looking at him and holds his massive hands out towards me imploringly.

The Fort and then the Taj are beautiful. The trip becomes more and more lavish. We travel to Jaipur, and the Oberoi Rajvilas Hotel which is designed like a Maharasha's palace. There's a private garden I can see from my marble bathtub. I go to the spa and treat myself to a remedy that promises to open up my third eye. I could use some perspective. A woman massages my head with Himilayan herbs and suddenly I am more awake than I have been this entire trip. We go into the old city of Jaipur, which is like a something out of an artist's dream. The entire city was painted a coral pink back in 1876 to honor a visit by The Prince of Wales. We drive by one bazaar after another where women squat on the street selling spices the color of lemons, cherries and the ocean. Every crazy corner holds a different universe. It's no wonder...I mean, this city was built for 150,000 people and is now home to one and a half million. Old men with long white beards wearing white cloths walk barefoot down the street playing the same game as our driver of evading the oncoming cars and camels. For some reason buffalo collect on the medians barely wide enough for two feet let alone four. I bargain for a patchwork wall tapestry made from pieces of wedding dresses that are stitched together in wild hues and laced with intricate, delicate bead work. Hundreds of them hang from the walls and are piled on top of each other in small local shops. It's almost impossible to choose. Each one is unbridled and beautiful and overwhelming. Each one is lavish and, from an American perspective, completely undervalued. As I stand, dazed trying to focus on just one to take home, I realize that these tapestries are what India feels like to me.

If I could fall asleep right now, Jaipur is the place I'd dream of revisiting. There's so much more to remember about India. A picnic in the Himalayas. The man at the hotel who's job it was to do nothing but chase away pigeons. The food, like gifts to your taste buds. The extraordinary kindness and beauty of the people. I've never seen people so exquisite, not even back here in Los Angeles where beauty is a commodity. Tomorrow I'll start falling back into my old routine and India will become pictures, my tapestry and a few small stories. I wonder, when people ask me about India if I'll be able to say anything that hasn't been said, if I can make any observations of value at all. But for now I think I'll head back to bed and hope the familiar sounds of the Pacific will lull me to a place of peace and easy dreams.

Return to Feature Archive