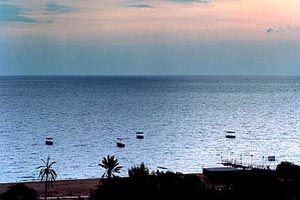 Just a few miles off the coast of Iran in the Persian Gulf, Kish is a sandy, laid-back coral island that would seem to be the ideal vacation paradise. But an earthly paradise is a complicated prospect in the Islamic Republic of Iran, ruled by Shiite clerics who have imposed restrictions on every aspect of social and cultural life in the country. Borzou Daragahi recently visited the Islamic Republic's version of paradise.
A Day At The Beach In Iran

By Borzou Daragahi 8/9/2002
The first thing you need to know about Kish is that you can go there. It's the only place in Iran where any citizen of the world can come and get a taste of the country, without going through the incredible hassle of getting a visa -- well, almost any citizen of the world. The foreign ministry official here tells me you can forget about coming to Kish if you're one of the 6 million citizens of Israel.
Upon arriving, my friend Delphine and I decide to stay at the Kish Elite, formerly the residence of the deposed Shah, as the hotel manager informs us.
Manager: When he left, the government came and took everything from the Shah.
The hotel manager also informs us of the second thing you need to know about Kish: it's, well, a little complicated coming here with a friend of the opposite sex.
Borzou: I can't believe they wouldn't give us a room together.

Delphine: "It's the Islamic republic. We're colleagues. We're not married. According to the Islamic Republic of Iran, we can't get a room together, not even if we have separate beds."
You can also forget about getting a legal drink on Kish Island, although we were told that getting booze "under the table" is relatively easy.
But the biggest thing you need to know about Kish are the rules about the beach. You cannot go to the beach with a member of the opposite sex -- not with a significant other, not with a spouse, not with a sibling, not with an offspring. This we find out the hard way.
Borzou: What are we going to do? We can't go to the beach together.

Delphine: I have to go this way. This is the beach for women.

Borzou: I don't know how I'm going to get in touch with you later.

Delphine: It's written, exclusively for women.

Borzou: So what do we do here?

Delphine: I don't know. I am asking where is the men's beach. It's so far.

Borzou: They have speakers. I come here and they announce on the speakers.

Delphine: And you ask for me.
I don't want to go to the beach alone. So, I call up my friend Saeed Shambehzadeh, a musician who got his career started playing the clubs here. We go to the male beach together. Kish doesn't have any industry. So, the golden sand beaches are invitingly pristine. The guys seem to be having fun splashing about in the water. But Saeed, a ladies man who has lived in Paris for a while, seems a bit uncomfortable.
Borzou: What do you think of the beach?

Saeed: It looks like a gay beach.
It had been strange, back at the hotel, watching Delphine put on her scarf and overcoat to go to the beach. But once she gets there, she and her pals have a ball.
Delphine: You have to arrive here with your hijab and manteau -- once you are on the beach you can take off everything. It's some kind of some small space of freedom.

Neda: Yeah, for women only.

Delphine: Yeah, that's the problem because your husband has to go to the other beach.

Neda: Yes.
The idea to turn Kish into an earthly paradise started with the deposed Shah. He wanted to turn this once-sleepy fishing island into a luxurious vacation destination. He built a casino. Hotels began to go up. There was talk of scheduling a Concorde flight here.
The 1979 revolution, with its puritanical, anti-Western overtones, put a halt to those plans. But even the clerics who took over Iran understood Kish's potential. They turned it into an income-generating "free trade zone" during the early years of the revolution. And, after the 8-year-long war with Iraq ended, and Ayatollah Khomeini died, the old vision for the island as a resort destination was revived -- albeit under Islamic restrictions.
Still, it's usually so hot and humid here, authorities don't have the energy to crack down on women wearing skimpy headscarves or overcoats.
In fact, Kish is so hot, everyone goes to sleep from about 2 p.m. to 5 p.m. The nights are when Kish comes to life. Unlike in other places in Iran, live music abounds.
The young people shoot pool, recently declared legal.
Young women can ride bicycles on Kish, something they have a hard time doing in other parts of Iran.
Shopping is another reason Iranians come here. After the beach, we decide to escape the sun by heading to one of Kish's dozens of bazaars. But as we quickly find out, the "bazaars" resemble something all too familiar.
Borzou: It doesn't look like a bazaar to me. It looks like a shopping mall.
The shops stay open until midnight, and Kish stays awake until 3 a.m. or 4 a.m.
But don't count on people dancing in the streets. Over the past year, authorities have begun cracking down on dancing. The most you can do is move around in your seat. In fact, authorities have been clamping down on a lot lately: they shut down the mixed beach that people with foreign passports could go to.
Here's another ominous sign: They've begun reburying the bodies of some of those who died in the revolution and the Iran-Iraq war. Defending the honor of those martyrs is a major reason conservatives give for cracking down on Western "behaviors."
One thing they haven't cracked down on is Kish's new Dolphin Park.
Its part of a German-Iranian hotel tycoon's massive new theme park. Hamid Reza Ahmadi, the nephew of the tycoon, says when it's done, it might resemble the home of a certain floppy-eared mouse.
Ahmadi: Eventually, we would like to make it like Disneyland -- a kind of Disneyland.
At the dolphin pool, a Russian trainer feeds fish to the slick-skinned beasts as they jump through hoops.
Outside the lavishly decorated dolphinarium, is a vast tropical bird park, with brilliantly colored birds from all over the world. They sing beautifully from their cages.
Later, we catch up with Mehdi Karampour, one of Iran's new breed of hot young directors. With its relative lack of hassles, Kish is turning into a Mecca for films. Mehdi is here filming his latest, a feature called, perhaps appropriately, "Utopia."
His movie, he says, tells the story of seven Iranians from three generations. They're all fed up with their country. They come to an island, where they await the smugglers who will help them escape the country illegally. They all come from different parts of the country; each has their own reason for wanting to leave. But they all want the same thing: they want to go somewhere else. Utopia.
In Kish, I'm Borzou Daragahi for The Savvy Traveler.
Return to Feature Archive