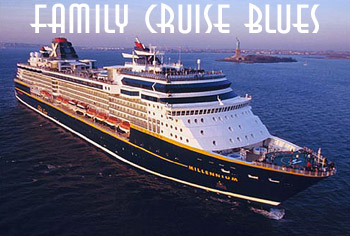 We're traveling on the theme of the summer August vacation…But when that August vacation becomes a family trip, especially when the family extends out several branches, what should have been your restorative two weeks can become an ordeal of nightmarish dimensions. The sleeping arrangements, the food likes and dislikes, the politics -- it can be exasperating. Reporter Karen Lowe took the three-generation family vacation challenge, and we're dying to find out if she survived the voyage.
Alaska Family Cruise

By Karen Lowe 8/2/2002
Okay, you hear these two words a lot about this time of year: family vacation.
Oxymoron if I ever heard one.
In my family, this is an annual event when my mother, my siblings and their families all get together, usually at the beach.
The experience is not unlike childbirth. Women supposedly forget the pain. And, there are moments of bliss. But there are also these unpredictable maelstroms of anger.
Here are some of the high points of the past: For my own protection, I won't name who did what.
Here goes: Out of frustration, one of my siblings actually threw a pizza against the wall. We watched stunned, as the pizza hit the wall and slid slowly down, leaving a cheesy, slimy trail.
And, we should place bets on how long it will take for one sister to angrily order her husband to load the car to leave. True to the script, after many tears, she is persuaded to stay. And, my mother always, always loses her purse. And, for unexplained reasons, it invariably contains large quantities of very expensive jewelry -- even though the most elegant thing we usually do is eat at a crab house.
The most agonizing battles are over food: we hate shopping for it, making it, and cleaning up after meals.
Waiter: The salmon tartare is a fish made of raw and smoked fish. And, this fish is the salmon which is marinated before and then it is cooked. The smoked and raw, the raw, and so that means alive -- not alive because we kill them before a good way and the smoked fish. That is the way of the tartare of salmon.
Ah, so many delectable choices on a cruise. The relief from conflict at the dinner table was palpable. My sister Michele compared this meal with what a typical experience at the beach was like.
Michele: Jeanette doesn't have to cook, so she doesn't have to complain. We don't have to hear her talk about going to the grocery store, and what she should buy. And, how she overbuys. (Laughter) And, that David hates the mess, and there is no mess here. And then, David would have a fit, and then I'm trying to help Jeanette and calm David. (Laughter) And, then Karen gets insulted because David does something to her. So, no one is in their roles -- it throws everyone in different territory.
But with no food to fight about, we had to create our own intrigue. My eldest sister Jeanette started things rolling. She's the frugal one. So, of course, she brought her own liquor onboard. When her 19-year-old son, Ben, asked for vodka, she handed him the whole fifth -- no questions asked. So, the next day, in the hot tub, my cousin Harold, and me and my sister Michele, chewed over this little tidbit. We all have teenage daughters and wondered if any of them partied with Ben.
Harold: Do we know whether Alexandra and Erika actually had any vodka? No. No, we don't. We know that vodka was there and Alexandra and Erika were present, yes…. And a good lawyer could get them off. (Laughter) Is Johnny Cochran available?
I admit that I was the one that was most nervous about a cruise. I worried it would be a kind of quarantined psychosis. Instead, it allowed us to loosen up, maybe even take some chances. My brother, David, is a plastic surgeon, an occupation that ensures that he will be surrounded by youth-obsessed people. He does face lifts and tummy tucks for other people everyday. He accepts his graying hair, but could not make peace with a small bald spot on his head. I was summoned to his room for consultation.
Karen: You've gone this far. You may as well just finish the job.
To be honest, the sight was quite shocking. His wife, Sue, had cuts his hair down to bristles. Sadly, the bald spot still showed. The question: To go for totally bald, or not?
David: And, if you don't like it tomorrow, it'll look like this anyway. You'll have this, what, five, six, seven, 10 o'clock shadow on his head.
Sue: Right! Go for it -- you might as well do it all. (Laughter).
David: This what you go on a cruise to do, right?
Karen: Shave my head?! (sound of water, shaving)
David: No, to rejuvenate. (Laughter, more sounds of water and shaving.)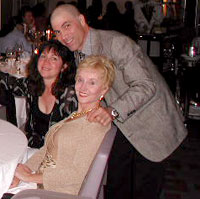 Karen, David without hair and Sue.

David doesn't like to talk about himself much. But now that I've got him trapped in a bathroom with Sue wielding a razor over his head, I figure this is the time to hone in on a few items: like, why he thinks it is good idea to put our family -- so much unstable plasma -- together on a boat. At the beach, at least you could get away.
David: That's the problem with the beach. By the time you are 3 days, 4 days into the beach, you're thinking, "Wow! When can I get out of here?" 'Cuz everybody is cooped up in a small space. This is a relatively large space.
Karen: But you're trapped on the boat…
David: But being -- how long is it -- a thousand feet long, there are a lot of places on the boat that you can do lots of things and get away. And, there are a lot of spaces to be together.
Yes, the Infinity has six floors, a theatre, nightclubs, a spa, a running track, a reading room and, of course, many restaurants. And, there are port calls where we shopped together and hiked together.
Still, I had to break through some clouds. I paid a pilot an extravagant amount to take me over the Misty Fiords and to plop down in a bog, so I could just I could have a solitary moment with no walls, just the sky above and the earth below.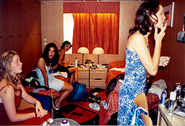 Left to right: Alexandra, Elana, Erika, and Daniel
Back aboard the ship, I figured I had worn down my siblings enough with my questions.
So, I went after fresh game: our teenage daughters Alexandra, Elana, Daniel and Erika. I asked them to look down the road 30 years or so to a time when they would be roughly their parents' age. They were in the midst of make-up madness for the evening, but shared a few thoughts.
They emerged from the cabin totally self-conscious, yet unaware of their own beauty -- and, unaware that, after the vodka incident, we had stalked them for awhile to the discotheque.
Later, we all headed for the culinary climax of the cruise.
Announcer: And now, ladies and gentlemen, Celebrity Cruises proudly presents all of our excellent waiters and busboys and food and beverage personnel in the Grand Baked Alaska Parade.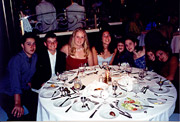 Keeping the peace through segregation: kids' night out.
Under crystal chandeliers, all the kitchen staff walked through a greeting line of hundreds of cheering people. At the end of the gauntlet were tables covered with artfully displayed shrimp, lobster, and confections of all kinds.
Waiter: Just to give you an idea of how much food is consumed on one cruise on the Infinity, our statistics show that you will have eaten in total: 56,500 pounds of meat and poultry; 16,300 pounds of seafood; 20,000 pounds of fresh fruit; 9,235 dozen eggs; 600 gallons of ice cream; 3,400 bottles of fine win; and, over 10, 000 bottles of beer.
On the last night, all the adults in my family dined at the ship's finest restaurant: a very sophisticated, understated contrast to the Baked Alaska Parade.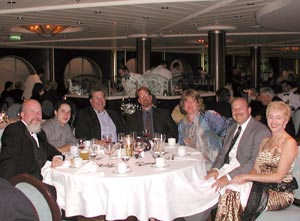 Adults shed beachwear for formal duds.

The men came dressed in fine suits and tuxedos. The women wore dresses with plunging necklines, sequins and silk scarves. Mom wore her finest jewelry. We were just so elegant. We listened as the waiter described all the dishes and watched as mountains floated by outside the window. We discussed, carefully, which wines to order, and we toasted our pleasant time together on the cruise. And, for a few, brief shining moments, our relaxed glow reflected off my brother's bald head.

Planning your own trip to Alaska?


AlaskaThisYear.com: Books, travel planner, vacation tips and interactive events calendar
Return to Feature Archive