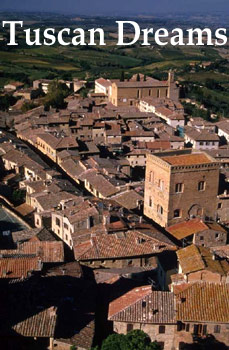 Everyone talks in dreamy terms about Tuscany: home of olives, wine and simple home cooking like mama used to make. Millions of us writhed with envy when we read Frances Mayes bestseller "Under the Tuscan Sun," in which she describes buying and renovating a Tuscan farmhouse for summer and Christmas vacations.

But are so many foreigners now trying to do the same that the dream has been ruined? Would you really opt for the Tuscan lifestyle, given the chance? We decided to indulge in a little fantasy ourselves, so we sent Martin Stott to Florence with a couple hundred thousand imaginary dollars in his pocket, and asked him whether he'd use it to set up home there.
Tuscan Dreams

By Martin Stott 8/2/2002
Ahh, Bella Tuscany -- the very mention of it makes me drool! Of course, I'll set up home here -- what a silly question! I've already started getting quotes from the removal men, but I guess I should at least pretend to do the job properly, and do a bit of superficial research to give you something to listen to over there..
This is Florence. I'm standing in front of Il Duomo, the Cathedral with Brunelleschi's famous terracotta-tiled dome. It dominates the Florentine skyline. There are dozens of churches and museums just packed with works of Renaissance art by Michelangelo, Botticelli, Masaccio and da Vinci.
Of course, they're also packed with visitors. Florence has always drawn Tourists, and some pretty distinguished one too: Keats, Shelley, Byron, DH Lawrence...and now, me, and several hundred thousand others. OK, so the clientele has gone downhill a little, and you can hardly move for people having their photos taken under the boy David's dangling appendage. But out of season when you're not dodging people walking backwards with video cameras glued to their faces, I'm sure it's wonderful here.
And, this is wonderful now. The 5-minute warning bell for the start of tonight's performance is rung from a 60-foot medieval bell tower. We're on a hilltop rising above Florence, sitting in a Roman amphitheatre under the stars for a performance of "Rigoletto." This is what you come to Tuscany for.
It's absolutely fabulous. In front of me, a heavily perfumed Italian mama enthusiastically joins in singing "La Donne e Mobile." Her voice shouldn't really be allowed out in public, but she knows the words and sings with such passion, I can't complain.
It's not only opera Italians are passionate about…
Sound: Local market.
While I'm staying in Florence, this is my local market, and this is a seller: he's a wiry gray-haired man in his late 60s, unshaven, but his tomatoes taste incredible. They're heritage crops grown for centuries by his family on their local land. He apologizes that there isn't much fruit and veg on his stall today -- he says it started to rain last night when he was picking it. You don't get an excuse like that at your local Wal-Mart!
The food here is so fresh and flavorful; little wonder Tuscan cuisine is simple -- it doesn't need to be anything else. There's something terribly appealing and comforting about this simple lifestyle, being so close to the land, in tune with the rhythms of nature, and part of a family with such deep local history. I'm so geographically and socially disconnected from my working-class roots in the grimy north of England that I find myself envying him. But I don't want to be reconnected to my roots -- I want to be grafted onto his. I want to say that my grandfather and his grandfather grew these tomatoes on this sun-kissed land, and if you go back far enough you'll find my great Uncle Leo was actually Leonardo da Vinci.
The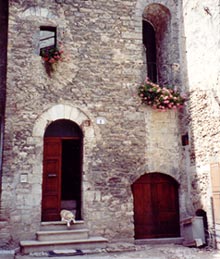 following day, I head out to the hills to visit an English friend. Vanessa Choni fell in love with a Tuscan man first, then the countryside. Today, they live in a villa they spent years, and all their life savings, restoring.
The building work continues, but Vanessa gives me some tips on how to handle wayward Italian workmen when I come to invest my $200,000.
First of all, plumbers and electricians are liars! They'll say, "We'll be there tomorrow or the day after," and then never arrive. However, I have found the absolutely ultimate way of dealing with them: and when they give me a day and don't come, the next day I arrive on their doorstep at 7:30 a.m. or 8 a.m. when they set out for work and demand that they come to me!
As we sit by her pool, overlooking vineyards and olive groves, Vanessa starts telling me about her favorite parts of the day: sunrise and sunset.
You walk into the fields, and you can often see hares. And, another thing I often see is the dewdrops on the spiders' webs, which are an absolute spectacle. Sunset, the best part of the day, is best spent in the swimming pool in the summer, watching the sun go down. That really is the moment when you say, "Where else could I live? Where else could I be?"
I'm a sinner…
I want to jump into Vanessa's pool, but I had to bring you here -- I've found something really surprising…
It's an Italian choir singing black gospel music in the middle of a Chianti vineyard! It seems it's very popular here. I'm told the choir has its roots in the American church in Florence, but it's mainly Italians who sing in it.
Amongst them, though, I find New Yorker Suzanne de Saar. She's worked in Florence for 5 years and loves the Italian way of life: Work to live, not live to work… But isn't singing black gospel just helping impose American culture on Italy? She says no -- she sings opera too!
The Americans that come here that I know don't want to have American things around them. They want to be American; they just don't want America - they can go home for that. They want to be surrounded by something different, learn something different -- they want to experience something different from America, so that's why they're here.
Apart from the occasional burger bar, the only thing the Americans living here seem to have done is helped preserve the culture and enrich it. They don't want to change it -- they want to absorb it. Which is why, I guess, this concert doesn't start till 10:00 p.m. -- that's when Italians wake up. By nature, I'm an "early-morning bird" -- Italy induces in me a permanent state of jetlag, but I like the location and I like the wine. It's time to splash the cash: buy a villa, grow my own grapes and olives…live the dream.
Sound: Real estate agency office.
This is the office of real estate agent Christina Fumagalli, in Florence
Christina, probably in her 50s, in bright red pants and blouse with dyed burgundy hair, is jabbing her finger at a faded map pointing out areas of Tuscany colonized by foreigners. I say, "You sound like you're describing the spread of a disease," and her eyes twinkle. She nods her head and says "Si, si," with a smile that suggests, You mustn't tell the boss. She's confided this in you. Then I realize she is the boss. I'm not sure she wants this sale! But she agrees to take me out in her car to see some properties.
Sound: Car driving.
We've come to the hills not far from Florence, down a woodland track and emerged into the open countryside into this fabulous ramshackle cow shed with terracotta tiles. For me, to buy something like this, with some land around it…what would it cost me altogether, do you think? Altogether? About 2 million euros. You're joking? Two million dollars, basically. The view is breathtaking, absolutely breathtaking, but so's the price.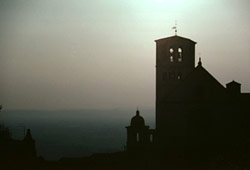 My dream of watching the sunset from my pool overlooking Florence, sipping homegrown wine, is all slipping away. Two hundred thousand dollars will just about buy me an outside closet to sit in! But, you know, surprisingly, I'm not that upset. If property prices are that bad, then how long will it be before all the locals are priced out of the market and Tuscany becomes a millionaire's playground? And, actually, do I really want the hassle of turning a medieval cow shed into a villa? Have I got the temperament to become an Italian: the passion, the temper, the speed of reflexes to honk my car horn at any woman who falters for just a fraction of a second at changing traffic lights? I won't stop coming here for vacations, but you know, maybe the fantasy of having a home here is pleasure enough. Why ruin it with reality?
From Tuscany, I'm Martin Stott for The Savvy Traveler.

Return to Feature Archive