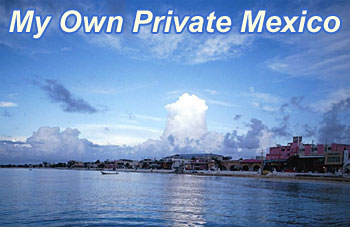 Travelers generally fall into one of two categories: You're either constantly on the hunt for new places, or you've found the one place you're crazy about, and you wind up booking back to that place over and over again. Contributor Dan Coffey discovered Mexico years ago, when he was in college. He fell in love with the place -- and it's, evidently, a long-term love affair for many reasons.
My Own Private Mexico

By Dan Coffey, 7/26/2002 (Originally aired 11/30/2001)
Inspired by the Bob Dylan song "When you're lost in the rain in Juarez, and it's Easter time too," in January of 1970 my college roommates and I drove non-stop from Columbia, Missouri, to Juarez, Mexico, where we spent a week at the Hotel Diamante, drinking continuously. A beer was one peso, or about 12 cents at the California Club. The pesos were the size of silver dollars, and if you changed $20 into pesos your wallet wouldn't close and your pants would sag with all the coins. I've been back 18 times since that first trip.
Mexico was the first place I ever tasted free-range chicken. Having been brought up on processed food, I didn't recognize it, and thought maybe it was goose or turkey. It's the first place I ever saw or smoked a Cuban cigar.
In all my weeks of driving and wandering around, there were some scary incidents and some wonderful ones. I remember camping on the slopes of the Copper Canyon and hearing drumming coming from way down at the bottom. The drumming kept going for hours, getting gradually louder. I thought "the Indians are preparing their attack." Finally, a boy of about 14 showed up. He was hiking to the next town and keeping time with a drum. He had already walked a distance of about 20 miles and was going another 20. He seemed to think there was nothing extraordinary about this. At one point, I found myself sitting on a cliff, looking at sheep grazing thousands of feet below me. There were clouds floating between me and those sheep, and I could hear the tinkling of their bells, so faint they were almost inaudible.
Once I impulsively drove down a sandy road toward some palm trees, and suddenly arrived at a pristine beach. It seemed empty except for an old man in a khaki suit who waved hello. As I walked toward him, I gradually realized when I got closer that he was naked, and evenly tanned a nut brown all over. He said he used to be an alcoholic but had stopped drinking and was now living the natural life. Later, he offered me some un-refrigerated cheese. When I hesitated, he assured me that cheese was alive and needed to be out in the open air. So I ate it. When I awoke in the middle of the night, projectile vomiting, I vowed to add another rule to the book by which I lived my life. "Never accept un-refrigerated cheese from a naked alcoholic in Mexico." To this day, I've lived by that rule.
Finally, on our last night there, we decided to get dressed, go into town and eat a real meal. We sat at a little outdoor restaurant on the beach and found they only served one thing, fish. I actually saw the fisherman pull the fishing boat up onto the sand and hand the cook my meal. I think the bill came to $2, including beer.
Since the financial crises of the early '90s, the $2 meal has gone the way of the nearly extinct California Condor. On my travels in Mexico, I saw one of those condors. It was lying in the middle of the highway in a remote part of Northern Mexico, and it's wing tips stretched way off the pavement and into the mesquite. It was like coming upon the Japanese monster bird "Rodan", asleep on a narrow desert highway. As I approached, the giant bird flapped those enormous wings and, seemingly in slow motion, took flight.
That's one of the reasons I keep going back. Because unexpected things always seem to happen every time I go to Mexico.
Dan Coffey, also known as PRI's "Dr. Science" and going back to Mexico next week.
Return to Feature Archive