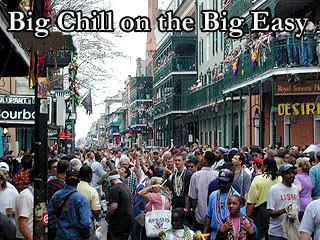 Travelers can measure where they are in their lives by the type of traveling they're doing. Usually intrepid traveler Michelle Kholos has joined up with an old group of friends, all of them travelers, all of them now traveling differently than they used to for different reasons.
Big Chill in the Big Easy

By Michelle Kholos, 7/12/2002
So, I'm at the Savvy Traveler studios recently and I run into another reporter who tells me that one of the airlines has offered him a free ticket for a reporting trip: Unlimited travel, around the world, for a month. "That's amazing," I say. "You are so lucky!" He says, "Yeah, it sounds great, but I'm kind of busy these days and I just don't know if I can do it." "You're crazy," I say. "This is a once-in-a-lifetime opportunity!" And he says, "Well, if I decide not to go, I can tell them about you. Would you do it?" And the most amazing thing happens….I say…"NO."
Wait, has my body been invaded by some boring pod person? I live to travel. Travel is freedom and independence. Travel means I'm going places -- doing….things. Travel gives me something to look forward to, dream about, remember fondly. I'm the one who's always ready to take off. If you need a road trip buddy to visit your great aunt Zelda in Scranton, I'm your girl.
Or, am I?
OK, I'm about to move to New York with my boyfriend, where I'm trying to start a new career, but are these reasons to turn down the opportunity to travel for a month…for free?! I need help. I need to consult the experts.
Juli, Jacqui, Shelia, Kristen and Angela are my experts. I met them 11 years ago when we were hardcore travelers, and our lives revolved around the Boston International Youth Hostel. It was the place we lived, worked, played and exchanged ideas with thousands of people from all over the world. We were backpacking, budget-traveling, independent and spontaneous in those days. Now, even though we live in different parts of the country, we still try to get together whenever we can. We agree to meet this year in New Orleans for the famous Jazz and Heritage Festival. It's the perfect time to see if my friends' travel lives and desires are changing as much as mine.
Everyone is staying in Juli's one-bedroom apartment. Kristen's husband, George, makes dinner for all of us. Juli handles the vegan chocolate cake to celebrate Jacqui's birthday
Juli: Do you have a chef knife.? You don't. Do I cook? Thank you, I am the queen of carry-out.
As usual, when we get together, the talk turns to travel. Kristen and George just returned from a 2-month backpacking trip around Cambodia, China, Vietnam and Thailand. I'm amazed they are still so hardcore. But Kristen says she has gotten soft. They didn't even stay in any hostels during their trip.
Kristen: OK, let me tell you what we're too old for. We're too old for bathrooms outside the rooms that we're staying in. I have a 36-year-old bladder, and I need to go to the bathroom in the middle of the night. And, so we could either pay $2 for a night with a room with a fan, where you sweat all night and go to the bathroom down the hall. Or, pay $6 for the bathroom in the room. And, we even need air-conditioning. We're such slackers. Oh, then we're all too old for hostels. Oh yeah, I'm too old for hostels. Oh!
The need for comfort isn't all that's changing our travel lives. After dinner, Jacqui takes out some pictures to show everyone the apartment she and her husband just bought. We see pictures of their kitchen, living room, their closest subway stop, and then a surprise:
Jacqui: This is our park and this is our baby.
Jacqui takes out a picture of her latest ultrasound. She is 5 months pregnant.
Women: No way! Oh my god! (laughs)

Jacqui: Didn't you guys think I looked fat?

Women: No. No. No.

Jacqui: Baby! We're pregnant! Oh man, I can't believe it.
When she was 18, Jacqui began traveling around Europe and the U.S., by herself. I ask her how she's going to feel when her children want to hit the road at 18, alone.
Jacqui: On their own, I'm not sure. I might have to be with them at all times. (laughs) I don't know. I can't believe my mom let me take off when I was 18 to go to Europe. Now that it's coming up to my turn to do that, I don't think I could do that.

Juli: How has my travel life changed? Now, I travel specifically for medical reasons, and no other -- which, I guess, is a valid form of travel.
Juli travels for medical reasons because her oncologist is in Washington DC. A couple of years ago, when Juli was 32, she was diagnosed with bone cancer. A prosthetic now takes the place of her thigh bone. She also endured months of chemotherapy. Happily, recent test results declared her one- year cancer-free. But the experience has made her think about priorities. She tells me that when she was diagnosed with cancer, she found herself having very few regrets, but one of them was:
Juli: Greece! And how badly I wanted to go to Greece because when we were in the youth hostels, I never got a chance to go anywhere besides the youth hostels. Which is kind of a strange condition of working in a travel environment, and not ever really traveling at least not outside the U.S. It just never happened because I was always working so, you know, being diagnosed with cancer, and then almost dying, sort of makes you think all these things.
Juli hasn't made it to Greece, yet. She can't afford it right now, and it's a little too far away from her oncologist. But she did decide to take a week-long trip to Honduras with a couple of friends. This will be Juli's first time out of the country. I ask if she would have taken this opportunity a couple of years ago.
Juli: No, probably not. I was working, working, working, working, working, saving, saving, saving, saving. Now, you know, now that I have no savings left, and I have debt, it becomes kind of comical that I'm, like, saving -- screw saving man. I could be hit by a bus tomorrow, you know. I could fall out of remission. They're going to Honduras. I want to go -- I'm going!
It's getting late and our conversation moves into the living room. We're sprawled on various couches and futons, even Juli's massage table. Shelia, our resident philosopher, thinks we used to travel more because we had less going on in our day-to-day lives.
Shelia: Travel came about when we were between things, sort of. It came about when whatever you were doing just wasn't satisfactory anymore, and you were looking for something a little more satisfactory. So, now, I think everyone, as they get older and they have a little more information, they're able to make more decisions about their daily life, that they can build satisfaction into their daily life. So, um, what was the question? I'm so tired.
No wonder. I look at my watch and am amazed to see it's about 2:00 a.m. in the morning. Juli is passed out on the massage table, fully clothed and Kristen is curled up in a chair, trying to stay with us, but nodding off every few minutes. Just when I think we're going to call it a night, Shelia decides she's going to turn the tables and interview me. And then, maybe because I'm exhausted, or maybe because it's time to come clean, Shelia pulls the truest truth out of me. For all my bravado about my independence, it comes out that, with the world being what it is these days, I simply don't like the idea of traveling without my boyfriend.
Michelle: And I find myself sort of feeling scared every time I have to leave him on a trip, because I'm afraid that I won't come back -- that I'll never see him again. And, quite frankly, that really bugs me because I never thought I would be one of those women who couldn't leave their man. And, I do, all the time -- it's just that every time I imagine that something's going to happen and I'll never see him again, and it will all be for a stupid trip.

Shelia: That's funny because everyone here has had a similar -- I mean you just summed it up, that idea that, all of the sudden, there's somebody else in their life that's more important than the traveling. Or, maybe not more important, but certainly a major factor in the travel.
The next day, we go to the fairgrounds where Jazz Fest takes place. We immediately move into our unspoken routine of splitting apart and going our individual ways. We always meet up later, but there is never any pressure to follow the pack. I think about the revelation Shelia pulled out of me and try it on for size, turning this way and that to catch a glimpse of myself in my new travel persona. I think it's easier to swallow when I'm around these friends, for whom travel is a value. Maybe, we no longer take off for months at a time or on the spur of the moment -- perhaps, we have people in our lives we don't want to leave at home, so we don't want to share our bathroom with 33 international strangers. That doesn't mean we don't keep travel in our lives in other ways.
A few days later, I'm back in New York and my boyfriend becomes my fiance. And, now, there are so many things to think about -- not just wedding cakes and guest lists, but, wow, this means I'm really, gladly, tied in. I think about my traveling friends: Kristen, who backpacks around the world with her husband, George; Jacqui and Tom, who make adventures for themselves in New York; Angela and Steve, who put camping gear on their bridal registry. And, I consider that maybe I haven't yet begun to travel. After all, there's still a honeymoon to plan…
Return to Feature Archive