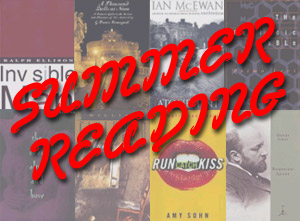 Summer's the season for reading. Most of us take our vacation time in summer. That way, we can unwind and really get into a good novel. What's your preference for beach, cabin or plane reading? A crime mystery? A harlequin romance? Perhaps, a biography? Throughout the show, we ask writers and entertainers what they recommend for summer travel reading. And, not wanting to be left out, Savvy Traveler staffers chimed in with their picks as well.
Summer Reading

6/28/2002
»Click on links to purchase books on the Amazon.com Web site.
Robert Pinsky -

Listen in RealAudio
The Dead, Alive and Busy, by Alan Shapiro
Tremors, Selected Poems, by Adam Zagajewski
The Hamlet, by William Faulkner
Washington Square, by Henry James
Margaret Cho -

Listen in RealAudio
Run Catch Kiss, by Amy Sohn
Peter Davison -

Listen in RealAudio
1000 Bells at Noon, by G. Franco Romagnoli
Atonement, by Ian McEwan
The Periodic Table, by Primo Levi
The Invisible Man, by Ralph Ellison
Everything is Illuminated, by Jonathan Safran Fore
Pico Iyer -

Listen in RealAudio
The Quiet American, by Graham Greene
Our Man in Havanna, by Graham Greene
The Comedians, by Graham Greene
The Long Goodbye, by Raymond Chandler
The Lady in the Lake, by Raymond Chandler
Farewell My Lovely, by Raymond Chandler
Miles Harvey -

Listen in RealAudio
Florida Poems, by Campbell McGrath
Steven McCauley -

Listen in RealAudio
Brother's Karamazov, by Fyodor Dostoyevsky
Bleak House, by Charles Dickens
The Man Without Qualities, by Robert Musil
Anything by Maeve Binchy
Savvy Traveler Staff Recommendations:
Jim Gates (Assistant Producer, The Savvy Traveler)
"Since it's my job to look for authors to interview on our show I end up reading a lot of travel books…however, I only read the first few chapters. If it doesn't seem to fit our show I move on to the next one. Right now I'm in the middle of Jeff Greenwald's new book, Scratching the Surface.It's an anthology of published articles, essays and on-line dispatches that he has written over the past 20 years as he's traveled the world.
Jeff's humorous and poignant "best of" compilation has officially kicked off my summer reading. Needless to say I'm well past the first few chapters."
Derry London (Engineer/Tech. Director for The Savvy Traveler)
"What I'm reading for the summer is The Outlander series by Diana Gabaldon...
The stories follow an Englishwoman as she accidentally discovers a time-travel hole in the traditional 'medieval' circle of stones, where she's taken back to the Scottish Highlands of the 1700's... Very interesting historical information not only about Scotland, but also the 'tween years of the American Colonies before the major wars of the late eighteenth century...
For my "All Time Greatest Travel/Reading" experience... It was on a flight from Dublin to LA, in those nine hours I read, cover to cover, Michael Crichton's Airframe. Very very interesting insight into an NTSB/Major Airline investigation into an air disaster, and the scientific physicality of a 747 and how they go about piecing together cause of an accident... Very good reading, although not advisable for 'en-route' air travel."
John Hoult (Producer, The Savvy Traveler)
"Favorite lightweight travel book: The Four Quartets by T.S. Eliot. Four inches by six inches by one eighth of an inch... Here's a little book that lasts. I've read it at least four times and I still don't quite understand it, but boy is it beautiful.
All-time travel reading experiences: Bury My Heart at Wounded Knee, by Dee Brown on a trip across the country and, for some odd reason, The Mandarins by Simone de Beauvior on an extended stay in Taiwan.
Other great summer reads: The Great Game, by Peter Hopkirk, The Mezzanine by Nicholson Baker, The Verificationist by Donald Antrim.
Right now, I'm reading Embracing Defeat, by John Dower, which is great, but way too big to take traveling. I'm also reading Raymond Chandler's Farewell My Lovely and The Aenied. I imagine I'll be traveling with one of those two."
Diana Nyad (Host of The Savvy Traveler)
"William Styron wrote Confessions of Nat Turner back in 1967 and subsequently won The Pulitzer Prize for it. It's a great summer read in that it's 450 pages of riveting story telling, all based on a gripping true story of a Southern slave rebellion in the 1830's. If you like Sophie's Choice, you'll like "Confessions...". Styron is as much insightful psychologist as he is wordsmith.
A quirky read, full of unpredictable turns--comparable to A Confederacy of Dunces--is A Heartbreaking Work of Staggering Genius" by Dave Eggers. Like "Confederacy...", this book reminds you that some of the finest minds in the land are not the Harvard PhD's.
Seabiscuit by Laura Hillenbrand won loads of literary prizes this past year, for good reason. This is a human and equine drama which takes you into the upper-echelon blueblood society of thoroughbred racing and sweeps you back into an era when ladies wore white gloves to the track. You are captured from the first to the last page."
Benjamin Adair (Reporter/Producer, The Savvy Traveler)
"I was flying out to Quincy, Illinois to catch up with the Carson and Barnes Wild Animal Circus (tune in to hear the story next week), and I grabbed Sputnik Sweetheart off my girlfriend's shelf to pass the fly-time. I'd already read Haruki Murakami's Norwegian Wood, so I eagerly awaited my three-hour layover - and man, I was not disappointed. This book has it all: ghost stories, criss-corssing continents, a mysterious disappearance, hot sex, and a foreboding, haunting loneliness; a profound sense of alienation that makes you question the very nature of intimacy, friendship and love."
Kelly Markham (Assistant Producer, The Savvy Traveler)
"First, let me say that if you've ever tried to read Ulysses and given up in despair, I feel your pain. Yes, Ulysses is a modernist masterpiece. Yes, it revolutionized the novel as an art form. And, yes, there are critics who regard it as the most important contribution that has been made to fictional literature in the 20th century. They usually refer to it as a "challenging" book, but we all know this is code for "unreadable." This is not a can't-put-it-down page turner. Reading this book is work -- the literary equivalent of cleaning the gutters.
Nevertheless, Ulysses is one of those books you feel obligated to plow through at least once. The "modernist masterpiece" cache seems to demand it. I've started and abandoned the book at least a dozen times myself. I'd always get to about page 74, find myself facing down another 715 pages, and then fling the book aside in defeat, seeking safety in the simplicity of some trashy mass-market best seller.
But then, a few years back, I found a battered copy of Ulysses at Heathrow, and started reading it yet again. Get this: It was effortless. There's something about Joycean stream-of-consciousness that lends itself perfectly to travel. You can allow yourself to be carried away by the current of language like you're boarding a 747 for a transcontinental flight. It doesn't have to make sense -- in the same way that a giant metal object hurtling through space at 30,000 feet carrying 200 people doesn't really make sense either. You just go with the flow and have faith that you'll get there -- that eventually you'll reach JFK or page 789, whichever comes first."