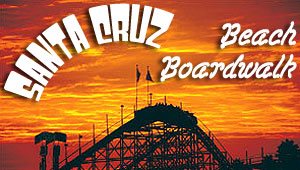 Courtesy of The Santa Cruz Beach Boardwalk
Taking a trip back to our old childhood haunts usually winds up in one of two ways: either absolutely everything has changed, and we lament the loss of the homemade ice cream store at the corner; or very little has changed, and we realize how much we romanticized our youth. Contributor Elizabeth Yates McNamee set off on this trip to her past through a childhood taste memory. And, she found that her fond memories of a trip with her mother years ago are still alive and well at the Santa Cruz Beach Boardwalk.
Postcard: The Santa Cruz Beach Boardwalk

By Elizabeth Yates McNamee, 6/21/2002
I peeled a banana the other day, and a strange thing happened: a long-forgotten childhood memory rushed back into my head. It was of the weekend my mother took me to Santa Cruz, leaving my father, my evil older sister and my baby brother at home. I was about 7. My mother and I camped at a state park. Well, we didn't really camp; we slept in the back of our Plymouth Valiant station wagon. In the morning, we ate a naughty breakfast of those powdered-sugar mini-donuts and bottled OJ. And then we went to the Boardwalk.
We spent the whole day there, just the two of us, riding the famous Giant Dipper roller coaster, eating chocolate-covered frozen bananas, and playing skee ball for hours.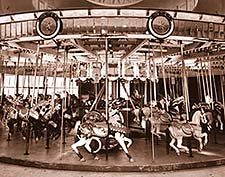 Courtesy of Santa Cruz Beach Boardwalk

In my senior year of college, I lived a block from that same Giant Dipper. But I never went to the Boardwalk -- not once. Though I'd lie awake some Saturday nights and hear the screams from the rides, and the thrumbling low-riders cruising past my door, carrying Boardwalk fans from San Jose. But a few weeks ago, I did go back. And it's funny: I thought I'd find a cheesy carnival, lots of video games and fast food joints -- all the wonderful things I remembered so clearly from when I was a kid replaced by cheap imitations.

Ok, there is a lot of really lurid and deafening 21st century video. But they still have the shooting galleries and the old Ferris wheel and skee ball. The 1924 Giant Dipper is still scary. And the 90-year-old carousel still goes round and round, calliope blaring.

As for fast-food chains, they're there -- but you don't have to settle for that stuff. There are fat corn dogs and funnel cakes. And they still have one of those machines that make saltwater taffy -- you know, where the mechanical arms keep pulling and pulling. But the best thing? They still make those marvelous, weird chocolate-covered frozen bananas, as well as a new variation called a Sandae, which is:
Banana vendor: "It's two chocolate chip cookies with ice cream in the middle, dipped in chocolate and nuts."
The biggest change was the crowd -- a real celebration of California's cultural diversity. I lost count of how many languages I heard while riding the sky glider high above the Boardwalk. From up there, I could see what makes this amusement park unique: the natural setting of the place. You can see the mountains, the green-blue ocean, and the funky/fancy town of Santa Cruz -- which haven't changed since I was last there.
So, the Boardwalk surprised me. Sure, it's got all that video, but also new rides. And the people seem awfully young. But all those childhood memories -- that whole weekend with my mother -- they're all still there, saved for me. And I can go back and find them any time. For The Savvy Traveler, I'm Elizabeth Yates McNamee.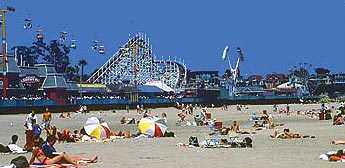 Courtesy of The Santa Cruz Beach Boardwalk
Return to Feature Archive