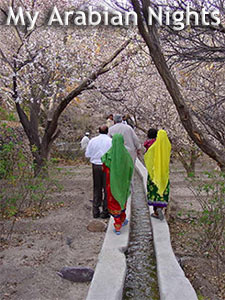 Arabia…The word shimmers in the mind -- a distant and ancient place, a place where Wise Men brought frankincense and myrrh, a place of fabulous wealth and veiled women. It's home to Sinbad the sailor and the lovely Sheherazade, who told stories to save her life. Arabia sounds so much more romantic than the Middle East, which conjures up media images of violence, petroleum and Islam. The Savvy Traveler's Anne Marie Ruff recently spent 2 months in Kuwait, The United Arab Emirates and Oman. She came back with tales of the Gulf Coast, which is somewhere between Arabia and the Middle East.
My Arabian Nights

By Anne Marie Ruff, 6/7/2002
I am hardly Sheherazade, but let me tell you tales of my Arabian nights. Though my tales may seem fantastic, they are all true.
(Story 1) Let me tell you the tale of how I was invited to Arabia by an Arabian princess.
A friend of mine in Bangkok said he had a friend, a visitor from Arabia, and he would introduce me. "By the way," he said, "she's a princess."
I imagined a woman, head-scarved and demure, like something out of the yellowed pages of a history book. Instead, she was dressed in a white T-shirt and dark sunglasses, and had a sophisticated-sounding accent. She could have been from anywhere.
We spent the day in Bangkok's weekend market, getting to know each other over spicy noodles and mango juice. A week later, I heard from her again.
It may not have been a hand-delivered scroll with Arabic calligraphy, but even an e-mail invitation to Arabia is a pretty exciting message. So, with the help of Yahoo!, I became the guest of an Arabian princess -- and almost lost my life.
(Story 2) Now let me tell you the tale of my first night with the princess, which was supposed to be the last night of my life.
The princess met me at the airport in Oman and we were driven to a five-star hotel. We sat on the lawn drinking tea and talking. We took a leisurely walk on the beach and admired the sunset.
It was a perfect day, until we returned to her room for a low-key evening around the minibar. As the princess listened to her phone messages, she seemed puzzled. She passed the phone to her friend. As he listened, his face turned ashen. I listened, and a chill ran down my spine.
The message was a jumble of expletives, racial slurs mentioning her guests, and the eerily repeated message, "Tomorrow you will die, tomorrow you will die." We decided to inform the police and slept with security guards posted outside our doors. I tried to enjoy the moonlit view, but I must admit I checked several times through the peephole to see if the guard was still there.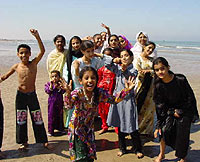 Princesses on the beach

The next morning, we were still alive. We checked out and were whisked away in a waiting car to the home of the princess' friends. I bounded down to the beach and landed in the middle of a gaggle of princesses.

Well, that's how these girls looked in their beaded and sequined gowns. They were actually the daughters of Pakistani guest workers, but they made me feel like a queen.

They sang me songs, touched my blonde hair and invited me to their homes. The first day of life after cheating death was definitely a sweet one -- and gave me time to become a man.

(Story 3) Let me tell you the tale of how I was transformed into a man.

In Oman, we spent nearly all of our evenings with old friends of the princess. Yuba, and his 11 children, fed us huge meals and plenty of tea. On the Eid holiday, we feasted on mutton that had been smoked for 3 days in an underground pit.

I asked Yuba a lot of questions: about his childhood in Oman; about food we ate; about Arabic clothes. Arabic men in the Gulf wear long, white robes called dish dashas, with a long underskirt. Yuba brought out a white underskirt for me. Under his instruction, I wrapped it around my own skirt, much to everyone's amusement.

Then Yuba turned the tables and started asking me about my life.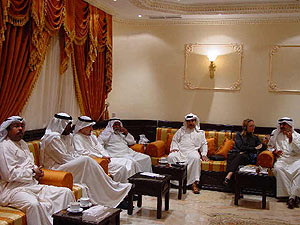 The dewanir
After listening, he said, in Arabic, "Yes, you are free to travel where you choose; you can go to any country." The princess explained that Yuba was speaking to me as if to another man. He chose the forms of the Arabic words used to address men.
Maybe there was some power in the man's underskirt he gave me. But after that, I was invited to dewanirs, which are evening tea parties for men only. I sat at outdoor coffee houses where men smoked sweet tobacco out of water pipes. Nobody ever mentioned that I was the only woman around.
I was uncertain about whether to feel ungrateful, or guilty, about this privilege Yuba had given me. He had helped me to cross into a world usually forbidden to women -- by imaging me a man.
But it was the princess who showed me another world where it was possible to eat snow in the desert…
(story 4) Let me tell you the tale of a snowy mountain in the desert…The princess was invited to a surprise birthday party for a friend and she graciously brought me along.
Here, all my stereotypes of Arabs were shattered. Scotch and soda was served on silver trays, Cuban cigars seemed to appear out of thin air, and men and women danced together with a serious sense of rhythm.
The dancing crowd only rested when the guest of honor made a speech.
Guest of Honor: "Your friendship is higher than Olympics…"
He mentioned the Olympics because he happens to be on the national alpine ski team. His giant birthday cake was a white-frosted mountain with a pair of chocolate skis coming down the slope.
So, as I rested my legs, exhausted from the dancing, I enjoyed a giant slice of snow-covered mountain in the desert. And I imagined myself journeying to a place with real snow, but as Sheherazade would say, that is another tale.
From the Arabian Gulf, I'm Anne Marie Ruff for The Savvy Traveler.
Return to Feature Archive