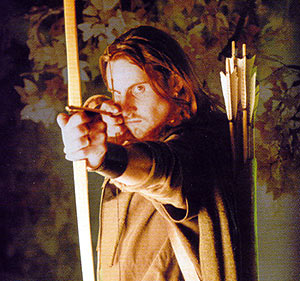 Photo by http://www.robinhood.uk.com
After Sept. 11th, many people might feel tempted not to travel too far for their vacations this year. In fact, it may be time to find out what's on your own doorstep. Many of us will travel thousands of miles to see tourist attractions around the world, but never visit those close to hand. Why is that? It's a question we put to our reporter Martin Stott who has been exploring his own backyard recently -- in England.
Robin Hood and the Little Gullibility Pills

By Martin Stott, 5/31/2002
Tens of thousands of tourists flock to Nottingham every year for one thing -- a medieval showoff who pranced around in girly green tights, stealing money from the rich and giving it to the poor.
Hollywood has only inflated the hype with numerous movies, often inaccurate. Kevin Costner, if you're listening, it's Nottingham, not Nodding Ham -- which sounds likes a peculiar pork delicacy you'd buy at the butchers. And the makers of the '50s TV show could have saved themselves embarrassment if they'd come here.
They'd have soon realized there aren't any glens in Nottingham -- that's Scotland!
Still, it's time to do something I should have done long ago: take a Robin Hood tour.
This is Sherwood Forest. Every summer, we have a big Robin Hood festival here. It's actually very good: merrymaking, children's archery lessons, a bit of swash and buckle as Robin Hood beats the life out of the Sheriff's acolyte, Guy of Guisbourne -- hugely violent, but the crowd loves it.
In addition to the simulated slaughter and mayhem, there's medieval music performed by three gap-toothed, pockmarked hunchbacks.
Best of all, you can amble through the old medieval forest. It's the only one left in Britain, though it's a fraction of the size it was in Robin's day -- the 13th century -- when it was a Royal hunting ground that stretched for 30 miles.
Enforcing the forest laws were Royal wardens. If you're lucky, you'll get to walk with one -- this is Dicken, dressed in tights, of course, sharing his knowledge of wood lore.
A few miles away, an enterprising businessman has bought the medieval village set from the Costner film and brought it to where it should have been in the first place: on the edge of Sherwood Forest. Here, Robin's cousin, the Abbess of Kirklees, explains about life in medieval rural England.
Back in Nottingham, it's time for a medieval banquet at the Sheriff's Lodge.
First, I've got to dress up. But flicking through the options with the mistress of the wardrobe, Miranda, I discover the costumes aren't designed to flatter!
They are sort of like dresses -- though they are men's costumes. I'll go and try that on.
Embarrassed, but suitably attired, it's time to join the fun.
There are over 200 people here, guzzling beer, chewing chicken legs, and having a riotous time with our host, the Sheriff of Nottingham. This is not a place for the fainthearted. Most of these groups are stag and hen parties. It's quite intimidating being surrounded by rowdy, bawling, tattooed hordes -- and that's just the women!
There's more bawdy, buckle and swash. Here, Guy of Guisbourne gets castrated, to the obvious delight of the hens. I'm careful not to drink too much -- the next day I've got to time travel again. This time, on the Tales of Robin Hood adventure ride, where I bump into yet another Guisbourne.
I'm not quite sure what this callow youth means. Is it dangerous, or is it so bad I'll never want to come back? Having survived, I can only presume the latter. This place is weird. You ride on a modern ski lift chair 'round a series of what look like paper maché tableaux, representing various scenes in the life of Robin Hood and ancient Nottingham. Sound effects and muffled commentary come from various speakers. Machines pump out smells from the period, but there weren't enough stinking carcasses and open cesspools for my liking! I guess given the choice between visitors puking and compromising authenticity, they chose the latter.
And that leaves just one place to go: Nottingham Castle. Prepare for disappointment. It was pulled down after the Civil War. Apart from the original gatehouse, all that's there now is a Georgian mansion. So, Sherwood Forest is a park and Nottingham castle is a posh house. It's not surprising, is it, that Errol Flynn stayed in Chicago and Kevin Costner went to Northern England to create a realistic medieval Nottingham? But tourists still enjoy themselves -- I think that's because when you go on a long vacation, you always pack a little bottle of gullibility pills. You don't want to be ripped off financially, but you're begging to fall for the myth and mystique of a place in a way that cynical locals aren't. I haven't got any gullibility pills, but, perhaps, I should do the trip again -- this time, with a bottle of med and some of those magic mushrooms I found in Sherwood Forest. Mmm, that's better.
Riding through the glen in sunny "Nodding Ham," I'm Martin Stott for The Savvy Traveler.
Return to Feature Archive