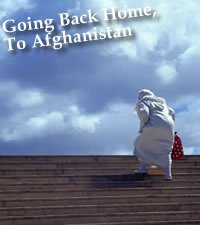 Two months ago on The Savvy Traveler, we aired a story about Afghan Americans in Fremont, Calif., who were visiting Afghanistan for the first time in 20 years. Fremont and its surrounding towns are home to 60,000 Afghans, the largest community in America. Most of them came to the U.S. when Russia invaded Afghanistan in 1979, and have not been back since. But now, with a new government in Afghanistan, many Fremont residents feel that the time is right to go back to visit, and to help.

In our previous story, reporter Debra Schifrin spoke with two young Afghans as they prepared for their separate trips. Katrin Fakiri, a human resource director, and Emal Newman, an airport operator, spoke of their hopes, fears and expectations about their journey home. Now they have returned, and Debra Schifrin again went to meet them to find out about their voyage.
Update: Going Back Home, To Afghanistan

By Debra Schiffrin, 5/24/2002
Katrin Fakiri and Emal Newman had told me this would be an emotional trip -- and it was, from the first second they crossed into Afghanistan.
Emal: I've never thought I'd be crying in front of a woman, or anybody, period. But here I was crying. Why? Because I am in my country. I'm back after 20 years. Some of my friends, they got on their knees and kissed the ground. They go, 'Thank God we're back.'

Katrin: As I got through customs, I just broke down -- I couldn't hold it together anymore. I just couldn't stop sobbing. And the guards there, they understood. And then one of them, he just knew, He said, 'She's come home.'
And that was just the beginning of an intense, life-changing journey for both Emal and Katrin. Katrin and I met at a deli near her hi-tech office to talk about her trip.
Deli worker: Chicken salad and egg salad! Anything to drink?
It was a beautiful afternoon, and a patio umbrella protected us from the sun as she showed me the three packs of photos she had taken in Kabul.
Katrin: This used to be our front yard. As you can see, not much of it is left -- no grass, very few trees. This used to be filled with trees and flowers. This is the hallway…
Seeing this photo answered one of the questions I had been most curious about: whether Katrin had found the house she grew up in. She told me before the trip that she planned to reclaim her house. What amazed me was how she planned to do that. She said she had the legal papers, and she thought it would be as simple as walking up to the door, ringing the bell, and seeing who lived there. I asked her if that is what really happened.
Katrin: Actually, it was as simple as that. I did find my house, I did walk up to it, I rang the doorbell, and walked in. But it was exactly what I didn't want to see. It was a poor homeless family who had moved in. Their homes were destroyed by the U.S. bombs back in the fall. A member of the Taliban had lived in the house, and they had left the country. So the house was empty. So, they decided to move in. They cleaned up and moved in. They were scared at first. They thought we were going to demand that they leave right now, which was not our intention at all.
Katrin actually did ask them to leave. But during the time she was in Kabul, she helped them find a new home. She and her family are even paying their rent for a year. Now that they know the house is there, Katrin's parents are planning to move back to Afghanistan. In fact, Katrin's mother has already returned to repair and redecorate the house.
Katrin showed me many other pictures from her trip. They captured the small things, like the poor young girls with dirty faces who smiled and showed off their fingernails -- turned bright orange with henna -- to the big things, like the International Women's Day celebration in Kabul. It took place in a theater that had so many bullet holes in the walls, there was hardly any space between them. But the brightly colored banners in the front of the theater heralded a new day for women and Afghanistan -- symbols of the past and the future all in the same room.
Katrin: It was just beyond belief that this could happen, even a year ago. We never thought it was possible, not in our wildest dreams.
But Katrin did not capture on film the most moving and difficult part of her trip. She visited the Russian embassy, where 25,000 refugees are now living. They've all been displaced by war -- mostly widows and orphans -- starving, maimed. It was the very thing that Katrin had told me before that she was afraid to face.
Katrin: And they live in the worst possible conditions you can imagine. There is one room, and 70 people live in it. They've divided the room into a 10' x 10' area, and there's a 12-inch wall, a mud wall, to divide each family. And it's a dark room; it only has one window. That is where I saw the horrible sight of war.
Like Katrin, Emal Newman documented his journey. In addition to photographs, he made a video of places in Afghanistan that needed help. When I talked to him before he went, he told me that it was his obligation to go. In fact, he was impatient with Afghan-Americans that weren't going back to pitch in.
When he came back, Emal and I met up at the Afghan Center in Fremont, where he showed me the video. The first thing he wanted me to see was an orphanage in his hometown of Jalalabad, on the border of Pakistan. On the video, I saw about 300 orphans lined up in the courtyard. They were standing still -- way too still for kids -- and they were looking up at Emal. The Emal I've met is confident, never at a loss for words. But on the video he just stood there silently. Next to him, an Afghan woman from the orphanage was speaking to the kids.
Emal: You can see that some of the kids are wiping their eyes. Because I was standing there, I was supposed to talk to them, but I was overwhelmed by their needs, and I became very emotional. So I couldn't speak. I was standing there crying. So I came to talk, and I couldn't. I was frozen. They don't know if they are dead or alive; they just know that there's no one to care for them. At first I didn't know I would be facing this much emotions. I just went there as if I went to any other place in Afghanistan. This was different. It touched every part of the body, especially the heart. It was emotional, emotional scene for me specifically because I could not hold back. My friends that came back with me, they gave me a hard time. They said, 'You cried." Yes, I cried. I'm human. I have a heart.
The next thing Emal showed me on the video was his visit to Jalalabad's medical school. This is where Emal's father had taught almost 20 years ago. He was a heart specialist, dean of the biology department, and a personality at the school.
Emal: I talked to my father when I came back and showed him the video, and he was really happy. He said, 'I'm glad you guys went, and I'm glad you went.' So, my father was very proud of me. You know, there is a time in life when your father is willing to let go. I think that is the point when my father realized because he saw the video and realized how much involved I am in helping rebuild Afghanistan.
Now that he's back, Emal is giving presentations in the Bay Area on his trip, and is working to raise money for the orphanage and the medical school.
Katrin is continuing her efforts as well, organizing micro-lending projects for Afghanistan's poor. Although her parents are planning on moving back, Katrin says she is not quite ready. She misses the simplicity and the pace of life in Afghanistan, but isn't sure yet which country to call home.
Emal and Katrin were two of the first to go, but other Afghan-Americans in the Fremont community are following. Several volunteer delegations are heading out this month to pick up where Emal and Katrin left off.
In Fremont, California, I'm Debra Schifrin for The Savvy Traveler.
Return to Feature Archive