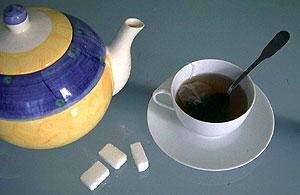 Stories have led the headlines in recent weeks about the tragedy between Israel and Palestine. We hope the recent efforts of diplomacy will bring peace to the area.

Reporter Hank Rosenfeld took a trip to Israel about 10 years ago and stayed at a kibbutz with a friend. As Hank said, "We carried no money, we all ate together, wore each others clothes, and basically enjoyed a brief socialist dream working together in the banana fields."

His portrayal of Israel in more peaceful times is what we all wish would come to pass on a permanent basis.
Tea With Nana

By Hank Rosenfeld, 5/3/2002
My best friend Michael left college and moved to Israel. It was that movie "The Apprenticeship Of Duddy Kravitz" that convinced him, to make Aliyah -- literally -- to "Go Up," to immigrate. You know, the one starring Richard Dreyfuss, with a scene in there where Dreyfuss talks about wanting to really do something with his life, and his uncle, played by Joseph Wiseman, says to him: "Duddy, you want to be a martyr? Move to Israel and live on a kibbutz."
So, that's what Michael did. Now he has a family and they live in a beautiful kibbutz, in a communal farming village called Maagan Michael, right on the Mediterranean. He's a high school principal and his wife is a hospital social worker. They both work in the banana fields and have children who are in the army -- the whole mishigas.
After years of guilt, I finally got myself over there. I went with a friend from Holland named Anneke and we traveled all over the Aretz -- the land. This was just after the Oslo accords, and wherever we went it was: "Welcome, you are welcome. Peace? Peace. Good. America? America good."
Living on Michael's kibbutz was great; we carried no money, we all ate together, wore each other's clothes, and basically enjoyed a brief socialist dream working together in the banana fields. I even milked cows, something growing up in Michigan I never did. Ha! Working with the people you love -- there's nothing better is there? I met Mahmoud, a Palestinian construction worker on the kibbutz, and he invited us home to Tulkarm to meet the family. His wife cooked up a goat and the smoke from it went out through a hole in the ceiling of their little house. He brought out a bottle of Black and White Scotch and we played a drinking game which involved grabbing the back of your buddy's head, pulling him toward you, and smashing foreheads together. First one to cry, or bleed -- game over.
Anneke and I went down to the Gaza Strip, and being a big blond Netherlander, she drew a lot of attention. We visited a Boys Club building where we got some T-shirts that said Aza, Arabic for "Gaza" You pronounce it in a great glottal guttural swallow - "A'ZA."
One warm night sleeping on a beach in Askelon, I heard Anneke shouting, "Ver robbing us!" These two kids grabbed money out of her pack, and I jumped out of my sleeping bag and chased them, but they were quicker over the dunes -- and I was naked, so they were soon out of reach. The next day, the Dutch Embassy gave Anneke a new passport and enough money to leave the country. "Shalom, Salaam, Duiii! See ya."
Michael took me northeast of Tel Aviv to visit a village in the West Bank called Kalkilya. We sat outside at a café with some of his friends and one quoted from an Arabic poet named Loella, who wrote: "When you think Jewish blood is better than other blood, you inevitably end up spilling Jewish blood that is not considered Jewish enough." Mike read from Israel's national poet Amichai, who wrote "All the historic sites of Israel are not worth a human life."
We sat sipping tea with Nana; Nana is a green leaf that makes your tea taste like peppermint and you can see it thru the clear glass. Nana is what I always called my Grandmother back in the States. And as we drank, I watched a man at the next table reach down and pull a bird out of a metal basket he had sitting on the dirt. It was a white squab, and he stuck a knife in the throat of it, just a bit, popping out blood onto the metal basket -- and I felt … something.
I read once that, "The purpose of Judaism is to destroy the instinct towards madness which lurks at the gate of the human soul."
I thought of that when I got a postcard from Mike last month.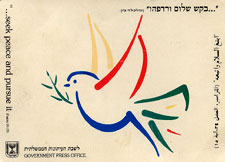 It had a joke from Israel on it. "You think things are bad now? Don't worry, it'll get worse." On the other side was a commemoration of "The Peace Treaty between Israel and Jordan…the Arava Crossing Point, 26 October, 1994." There was a line from Psalms written in Arabic, Hebrew and English -- "Seek Peace And Pursue It." Two birds fly between two flags. They face each other in mid-air, olive branches sticking out of their mouths.
Return to Feature Archive