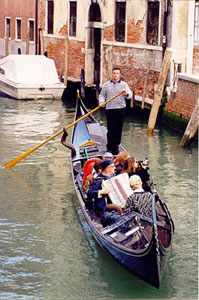 There's no telling why people are attracted to different parts of the world. Artists have always gravitated toward their own special places: Gauguin was enraptured with Tahiti; Hemmingway came alive in Cuba and Spain; Van Gough found his inspiration in southern France; and, Henry James felt more comfortable in England than he did in his native America.

For our contributor Susan Van Allen, Italy is her place like no other. I think of Italy as a laid-back, smell-the-roses, taste-the-wine-and-pasta, kind of society -- and I think Susan does too.

Whatever it is, Susan just can't get enough of Italia.
Hungry for Italy

By Susan Van Allen, 4/26/2002
Louise could not stop raving about that wine bar in Venice -- the one across from the San Trovaso church I had told her about. She and Jack became regulars there during their vacation; they thought of me every time they clinked their glasses of prosecco. They even sent me a postcard with a picture of "Gianni The Bar Owner." (Who knows when I'll get it -- Italian mail!) I laugh with Louise on the phone, while deep down, there's that stirring of a desire that won't quit -- the hunger for a trip to Italy.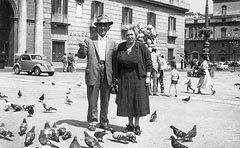 It's a yearning deeply rooted in childhood memories of long Sunday dinners at my Italian grandparents' house in Newark, New Jersey, fueled every August when we'd see Papa off to visit his sisters who still lived in Naples. He'd send back postcards of churches and statues. He'd return by Labor Day with beads from Venice, lace from Florence, and rocks from Mount Vesuvius.
I have sent no postcards. I am, according to the government, "unemployed." According to my agent, I'm "a writer between jobs." According to Dorothy Parker, I'm "dying from encouragement." And according to me, I'm a person who hasn't been to Italy in far too long.
I schedule extra lessons with Andrea, my Italian tutor, a Venetian with the face of a Raphael cherub. I supply the Chianti and imagine we're in the palazzo on the Grand Canal, where he grew up, as he helps me tackle the subjunctive, the verb mood used to express doubt, probability, hope. Together we translate: "I had hoped that I would get a job by now so that I could plan a trip to Italy…"
Louise's postcard finally arrives. As I stick it on the fridge, the memory of that wine bar rushes back. I discovered it on my first trip to Venice with my old friend, Betsy. In that arrival haze, we dropped our bags, hurried out of our hotel, and landed on a small bridge at the golden twilight hour. As if on cue, a gondola glided toward us, steered by the most handsome of handsome dark-eyed gondoliers. He flashed us a smile, a ciao, and then floated away.
Giddy, we stumbled across another bridge, and there it was -- that wine bar. We took our place at the counter and Gianni served me my first glass ever of prosecco. Every time we went back, we took the same route to get there, in hopes of seeing that gondolier again. But we never did.
That afternoon, I stay in the kitchen near the postcard, cooking.
My husband declares my puttanesca as good as what we had in Rome. We clink our wine glasses -- as I watched the grown ups do years ago at those Sunday dinners -- and toast, "Salute." Here in my Hollywood kitchen, I have Italy in sweet memory, in present fantasy -- and even in the future. I say (in subjunctive that would make Andrea proud): "Spero che siamo qui subito." I hope we'll be there soon.

Return to Feature Archive