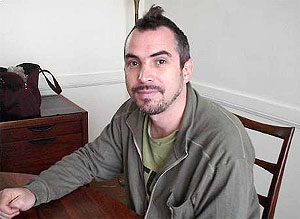 Interview: Alfonso Cuarón

[4/5/2002]
Mexican film director Alfonso Cuarón is probably best known in America for his films "A Little Princess" and "Great Expectations." He recently returned to his homeland of Mexico to film "Y Tu Mama Tambien." The film's getting a lot of buzz.
It's a funny, sexy road movie about two teenage boys who invent a mythical beach to entice an older, beautiful woman to join them in searching for what they call "Heaven's Mouth." The road trip takes them along the gorgeous South Pacific coast of Mexico. The seacoast vistas are spectacular, the small Mexican towns are charming. But the story hinges on the revelations these three experience as they travel together.
Alfonso Cuaron is a cosmopolitan kind of guy. He lives in New York, has worked for years out of Hollywood. He's doing his next film in London, and he never loses touch with his Mexican roots. I recently caught up with Alfonso in his hotel room at the Chateau Marmont in Los Angeles to discuss how he used the device of travel in his coming-of-age movie, "Y Tu Mama Tambien."
Return to Feature Archive