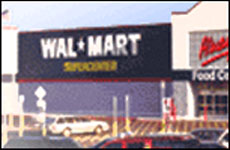 What do you say we stock our super, self-sufficient RV now and head out to the wide-open spaces of Big Sky country? But first let's go over a bit of RV-insider vocabulary. A person who lives year-round in a motor home is a "full-timer." And if you park overnight at a place that doesn't have hook-ups for water, sewage, or electricity, you are or "boondocking." We sent our contributor Susan Burton off to find just what boondocking is all about.
Boondocking at Wal-Mart

By Susan Burton, 3/29/2002 (Originally Aired 8/3/2001)
John Halicki is the manager of the Kalispell Wal-Mart. He counts the RVs camped out in the parking lot when he pulls in a little before 7:00 a.m. every morning. The most he's ever counted is 30. Usually there are about eight or 10. On a hot afternoon in July, John shows me where they set up camp.
John: "We're standing out here in front of the store, dogs out, right by Lucky Lil's casino and gas station up there."
RV-ers have been camping at Wal-Marts all over the country for years. It's free and convenient, and some of the stores are open 24 hours. Not every single Wal-Mart allows it, so it's a good idea to ask before you settle in. The idea is that you stay for just one night. Claim a space at the edge of the lot, keep it clean, and move on in the morning. Some RV-ers stay for several nights and make messes, and there's a bit of concern that these campers are going to ruin it for everyone else. It's enough of a problem that one national RV organization, the Escapees, has a form letter you can hand out to people who seem to be abusing their Wal-Mart privileges. The RV-ers who sleep at Wal-Mart consider the company a good neighbor and they like to behave the same way.
Donna: "I like Wal-Mart -- not running K-Mart down, but I like Wal-Mart. I like Wal-Mart..."
This is Donna. When I meet her, she's sitting on a little stairway hanging outside the front door of her motor home, smoking a cigarette. A couple years ago she and her husband Jim sold their house, and almost everything in it. They've been on the road ever since.

To understand what's next, you'll need some vocabulary. Since Donna and Jim live only in their motor home, they're "full-timers." Here at Wal-Mart, they're "dry camping," which means they're at a site without "hook-ups," which are the pipes to sewers and portals to electricity you find in RV parks. So, at least for tonight, Donna and Jim are "boondockers."

When RV-ers say "boondocker," they're often referring to someone who goes deep into a national forest and surrounds his motor home with solar panels and water jugs. Donna and Jim are business-class boondockers. They're frequent travelers, and Wal-Mart is their preferred chain. Donna finishes her cigarette and we go inside. She shows me a Rand McNally road atlas, customized for regular guests of Wal-Mart.
Donna: "Okay, we bought this at Wal-Mart. If we go into a state where they have a Wal-Mart, and they let you park there, then we do it."
Some Wal-Marts give RV-ers special treatment.
Donna: "There was the one where they put the flyers -- Anchorage -- 'Welcome to Wal-Mart.' You would not believe the RVs -- maybe 50 every night. It was pretty packed."
Wal-Mart Checkout Sounds: "Beep, beep . . . Thank you for shopping Wal-Mart."
For Wal-Mart, free camping is not without profit. RV campers are good customers. Like this traveler from Arizona.
Camper: "We spend so much money at Wal-Mart. We're keeping them in business. We came in to buy a bottle of Stop Leak for the anti-freeze -- $150 of stuff: flashlights, huckleberry jam...Wal-Mart does benefit, don't they."
Usually a benefit for Wal-Mart has a corollary loss for a local business.
Roy: "We go by there every day. How's WallyMart campground doing tonight?"
This is Roy. He and his wife Marcie own the Rocky Mountain Hi RV Park, just outside Kalispell, back in a big meadow, with log cabin style buildings and carved bear statues. They don't seem worried by Camp WallyMart, just amused.
Roy: "There's been a lot of little comic strips, kickin' back in Wal-Mart, so..."
Sometimes Roy and Marcie get a customer who seems to have just emerged from the backcountry, someone who hasn't emptied his sewage tank or filled up on fresh water in days.
Roy: "I'll say, where've you been . . . Hungry Horse, Wal-Mart..."
A lot of people buy RVs because they want to take the comforts of home along with them on the road. During the day, they want to have adventures. But at night, they want the known things: home-cooked meals, old pillows. The things they love.
Clark: "My wife enjoys Wal-Mart so much, that when i pass away, she'll come here so she can see me every day."
This is Clark. I meet him just as he's finishing up a piece of cake. He and his wife Delores sit in identical commander's chairs inside their motor home.
Clark: "My wife Delores, she can spot a Wal-Mart 50 miles away...coming down the road...there's a Wal-Mart. I wheeled in and here we are."
Clark and Delores have been RV-ing for 30 years. Clark built their first one with stuff he found at the dump. But this is their last trip -- they're getting too old to be on the road. I ask Clark why he parked in this spot and he tells me that the lot is slanted, except for right here, and he wants to make sure Dolores doesn't have to sleep on a downslope. Delores smiles and ducks her head. We stare out the window at the sky.
Clark: "Look at that cloud formation right in the back window. Light is just right...and that happens to be part of my imagination right there."
As the sun goes down, the lot fills up with more and more RVs. Even though they've been on the road all day, most people are chatty. They get out, stretch their legs. One couple walks over to Applebee's on a date. Around 9:30 two motor homes park near the grassy area. They're pulling nearly identical trailers and I walk over because I'm curious what's inside.
Russ: "My name is Russ. It's been a 4-week drive, spelunking all around the countryside."
I ask Russ if I can see one of his cars, and he unlocks the trailer.

Inside the trailer is an elegant buggy that Russ restored himself. It's an original 1911 Model T, painted red, with lots of brass. Russ and his friend Jerry and their wives travel with their Model Ts every summer. They've driven the cars through national parks and around small towns, and up 14,000 feet to the top of Pikes Peak. Russ promises that in the morning, he'll take me for a ride.

At 6:30, I meet Russ in the parking lot.
Russ: "Well you and I are going to take a ride -- toot around Kalispell."
Russ and I head east on Highway 2. We're up high and we're going slow, about 25 miles an hour. You can feel the engine vibrating under your feet and the seats are soft, filled with horsehair. It's sunny and the top of the car is open, and cool air comes through my sweatshirt. As we head out of town, toward the mountains, it's as if we're motoring along in American history.

I tell Russ I wish I was wearing a Calico skirt and we start talking about pioneers, covered wagons and general stores.

Soon we rumble back into the parking lot. Wal-Mart is the last place you expect to find a sense of history -- even by chance. Wal-Marts are about big footprints, about laying pavement over the past. But this morning, in Kalispell, you can actually see how we got here, draw a timeline around the perimeter of this parking lot. Our touring cars got bigger, our small towns disappeared, and weary travelers found a new place to fill their ice-boxes and hang their hats. A guy who says he's an elk-hunter comes over to talk to Jerry about his Model T, and Russ and Kathy go inside to get breakfast at McDonald's. I stand in the parking lot, counting. There are 15 RVs at the trading post this morning.

For The Savvy Traveler, I'm Susan Burton.
Susan Burton is a writer living in New York.
Return to Feature Archive