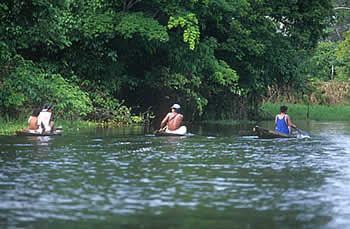 It's human nature to compare things. When we travel, we make constant comparisons. The smaller mountain regions of southern France remind me of the Berkshires in Western Massachusetts. Foreign places and people can remind us of home. It's one way that travel connects us all. Our contributor Jim Bogan reports from a pretty exotic area of Brazil. Jim's a Missouri boy and, as his trip progressed, he had constant flashbacks of home. Yet in the end, he realized just how far from home he was.
Postcard: Not The Ozarks

By Jim Bogan [3/15/2002]
The apartmented skyline of the city of Goiania is visible from this ridge in central Brazil. A million-and-a-half people are congregated on that horizon; but below us the Valley of Rio Caldas is empty of humans. The Caldas is the local canoeing river of my friend Marcos. It reminds me of an Ozark spring-flooded brown river, rolling through farmland, hedged with forest -- in this case, jungle. Swap sycamores for the gigantic "Samaumeiras," and factor out the palms, and I would be back on the Big Piney, my local canoeing river. "Caldas" means "hot spring" and the water today is rich as minestrone from autumn rains.
Once on the sinuous stream, sharp maneuvers are needed to elude disasters, and I am a bit confused by the litany of directions in Portuguese from my pal in the stern: "Leme!" "Leme!"-- as we crash through a veil of low hanging branches. Swept and drubbed. It seems he expects the guy in the bow, me, to Leme! ("steer"), and that is contrary to my lifelong experience. The Ozark custom is for the moron in the bow to gawk and the moron in the stern to steer. For a minute, I wonder if it is because we are on the other side of the equator that this inversion is the norm around here. We switch positions and down the river we go as I practice principles formulated a full hemisphere north of here. Marcos sits low and centered, even when I pull the old Ozark maneuver of "leaping the limb"-- clearing the toppled tree across our course with only, uh, light lurch.
I feel quite at home and hope my continual comparisons to the Ozarks do not bore my companion; but really I am pleased with the similarities of current, fauna and flora. A distant cousin of the kingfisher, Martin Pescador (Martin the Fisherman) chatters by and disappears into a bamboo grove. Bamboo grows in southern Missouri too. But then:
A neon blue butterfly big as a baseball cap flops by. A red monkey, the size of a five-year-old, leaps like a squirrel from treetop to treetop. And that was not a turtle splooshing out of sight, but an alligator.
"SOMEHOW I JUST DON'T THINK THIS IS THE OZARKS ANYMORE."
And here is another one I never saw in the Ozarks:
We are working our way up a narrow, hair-pinned creeklet veiled in vines, just like in the movies. The source of the clear water is some kind of spring, and the sound of an invisible waterfall draws us turn by acute turn into this labyrinth that is happily without bugs.
"Oi! Olha aqui! Meu Deus! Para!" Marcos shouts. ("Hello! Looky here! Oh, my God! Stop!") Suspended eyeball high across the passage is a grey bat, his foot-long wings stretched out and hooked in a formidable spider web. We contemplate this weird apparition, hanging motionless but alive. I am looking around for a muscle bound spider, when the trapped creature compacts into a fur ball and as quickly expands into a bat and flits off into the green jungle. Well, I was dumbfounded with strange delight. In 30 years of Ozark meandering, I never saw that before. "Nunca."
Only later does Marcos admit that in his 20 years of extensive river ventures in Brazil, he has never seen the like. "Nunca."
Back in the Ozarks, I'm Jim Bogan, for The Savvy Traveler.

Return to Feature Archive