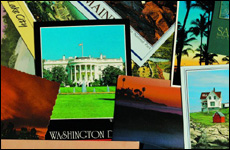 We started out the show today with a visit I made to a restaurant in New York, Nino's, where all the food is free, all the staff volunteers, 24/7, for Ground Zero workers. I ran into a policeman at Nino's I had met there while volunteering a couple of weeks ago. Officer Al Arbutina had taken me down to Ground Zero in his squad car and, although, it was an important experience for me and I'm glad I went, I was sensitive to the fact that his job of escorting tourists and VIP's down to gawk at the site where he lost fellow officers was wearing on him. It's a strictly closed area but anyone can wander down side streets and get a glimpse of the devastation.

That's what contributor Tatiana Harrison did. Like a lot of people, she was curious. And, like myself, Tatiana considered herself a bit of a looky-loo, inappropriately staring at other peoplešs profound misfortune.
A Postcard From Ground Zero

By Tatiana Harrison, 11/9/2001
"It's a beautiful thing"
That's what the ground zero worker says. He's just GOTTEN on the subway at Broadway-Nassau, he's filling out his time card, 8 hours, 55 minutes overtime he tells his co-worker. So you've been working almost 17 hours, I ask. Yeah, almost 9 hours overtime, he says, it's a beautiful thing.
I've spent all afternoon wandering around the perimeter of ground zero, and it's been a little too much like visiting Versailles, with everyone pushing against the barricades, leaning to take a picture of Marie Antoniette's bed, except this time, it's the burned-out hulk of an empire's glory, and sometimes, people start to cry.
I spot a sign, black marker on white poster-board: Borders would not fall.
I assume it refers to the burned building, just past the barricades, with "Borders Books and Music" discernable through the black blisters. I don't understand why someone expects Borders to be my hero.
I find another sign. On Maiden Lane, written in a new English dialect: "We are going to be close for today due to the inconvenience of the World Trade Center." Its words are as cruel as they are innocent. The greatest disaster in US history described as an inconvenience. The idea that the effects on this poor person's business would just be for "today."
I'm in New York to look at graduate schools, but of course, I can't stay away from this place. I was here exactly a year ago, just a tourist riding up to Windows on the World to give my foreigner friend the best view of my country. I'm trying to find the path we walked. I run into a group of fellow disaster tourists poking around a car, left abandoned since that day, and it was a little like so many vultures poking around a corpse, a chalky corpse with New Jersey plates and we all open the doors and poke at the seats. We're shooed away, as we should be, and I continue to retrace my steps.
I finally find it; just off Hanover Square, the cluster of benches where I once took a picture of my foreigner friend, whom I had a bit more than a crush on, and, sitting there, on the cold pink marble, I break down, in front of a man who can't catch a cab. He looks over at me, I shrug my shoulders, uncertain what I mourn. I didn't know any of the victims; I didn't live nearby. I am simply sad, remembering how wide open the world seemed a year ago, everything was possible, maybe he likes me, maybe we'll have a beautiful life together. I don't know how to live in this new world, no one has ever told me how, I just want to be back to where I was, taking a picture of someone who might love me. But that's enough - how long can you cry?
I get on the subway and someone tells me: It's a beautiful thing.
Return to Feature Archive