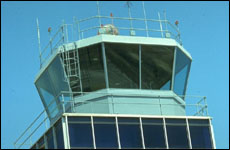 This week, two interviews about the future of air travel...
Interviews: The Future of Air Travel

11/2/2001
Last May, author James Fallows came out with a book called "Free Flight", which laid out a theory that might correct twenty years of failures in our commercial aviation system. Fallows is the national correspondent for The Atlantic Monthly, the former editor of US News & World Report … and he also happens to be a pilot. Fallows proposes a model of small air taxis, thousands of them, buzzing us around from point to point, as a replacement for the huge jets that serve only selected hubs.
I'm not sure any of us would fight a system where we all flew around on small jets the way only elite CEO's travel regularly. But there is a chorus of nay-sayers to the Fallows vision. The Chicago Tribune transportation reporter John Hilkevich says it's the details that will keep us on the big jets.
Return to Feature Archive