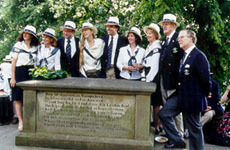 The sign "Ich bin ein New Yorker" hanging over a Midwestern business illustrates a new, nationwide feeling. In the last month and a half, Americans have been overwhelmed by a sense of community. We've reached out to connect - not only with Manhattan, but also with people near and dear to us. For Savvy Traveler contributor Naomi Lewin, that meant those she traveled with this summer - all 450 of them.
Reliving "Bright College Years"

by Naomi Lewin, 11/2/2001
I like to pack light, move fast, and do what I want to do when I want to do it, so I usually subscribe to the travel theory that two's a crowd. But this summer, of my own free will, I signed on to visit Europe with over four hundred fellow travelers bound for Russia - plus England and Wales.
Music: "...bright college years..."
That's us - clearly not your average tour group. Once upon a time, we all sang in the Yale Glee Club, which has a tradition of choral cameraderie through touring. One Glee Club alum got the idea of reliving those "bright college years" - as our alma mater says - and started the Yale Alumni Chorus. The group's first tour included 300 singers, friends, and family - everyone from alumni in their 80's to offspring in grade school. It was a wild success, so when the next tour was announced, the numbers multiplied. A lot.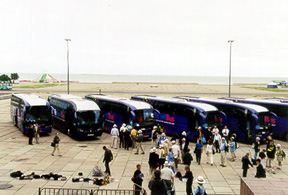 Part of the phalanx of buses
Since the members of this "chorus" gathered from all over the world, before we could take our show on the road, we had to rehearse.
While Londoners sweltered in uncharacteristic sunshine, we spent the first three days of our trip in a subterranean Hilton enclave.
Rehearsal: "Cut off gigolos on three, women...there's another one for the tour book!"
Rehearsal was a throwback to college, but another daily ritual took me back even further, to summer camp: morning announcements.
Mark: Do not place your large bag under the bed, in the closet, behind the desk, or under the chair. Place it inside the door, make sure it has a luggage tag with your name on it - generally, that's a small piece of paper or a little pocket that holds a card with your name in it that you attach to the handle. It's called a 'luggage tag.'"
Hardly sounds like the kind of language you'd expect from someone talking to a bunch of Ivy Leaguers, does it? But Mark Dollhopf - the guy who VOLUNTARILY spearheaded this tour - had a job not unlike Moses moving the Israelites. It took two charter planes to get us to Russia and back; one entire train to convey us from St. Petersburg to Moscow, and 10 to 12 buses for everything else. People were pretty good about showing up on time, but still, there was a lot of waiting - pretty hard on a lone wolf traveler. So was the notion of group garb. Most tours content themselves with a totebag or T-shirt, but not us. We had "haberdashery": unpackable Panama hats, logo-laden ties and scarves, plus as many catalogue items embroidered with the chorus insignia as people had cared to order - and few left home without them.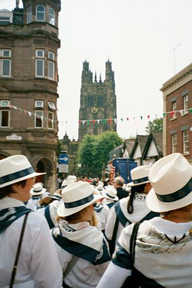 The Hats at Wrexham
But even I had to admit that "haberdashery" had its uses. When you get separated from the pack, it's comforting to have a flock of white hats to home in on. And those hats had another homing feature - at the drop of any of them, our group burst into song.
Music: "...'neath the elms..."
Serenading the St. Petersburg train station, I couldn't help thinking of how differently things might have turned out for Anna Karenina if we'd been there.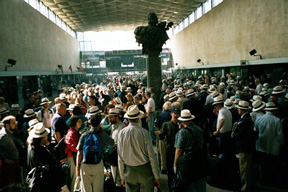 The Hats
A huge group like this - even a non-singing one - turns heads everywhere. There's no hope of blending into the woodwork the way a solo traveler can. Show up at a cathedral, museum, or hotel in a phalanx of buses, and you're a sitting duck for peddlers.
Hawker: "There are all five pieces inside...like this one...very beautiful. And big size. This one very beautiful. Two for ten American dollars. Really not expensive."
Street musicians had a different angle. At first, the small band outside the Summer Palace outside St. Petersburg greeted our bus with a cheery little oompa number. Then one of the trumpet players sidled over, asked a quick question, and... [Star Spangled Banner plays]

The Yale Alumni Chorus (and friends) in front of the Mariinsky Theater in
St. Petersburg, Russia
We did our share of complaining about being shepherded around en masse. But whenever we had to organize ourselves for meals or sightseeing, logistics were actually a lot worse. With a group this size, the herd instinct is strong, and inertia is great, which led one of our members to extrapolate a law of group travel as only a Yalie could:
Tim: "The time required to perform any given task increases exponentially as the size of the group increases algebraically. So if you have two people, you can do something in 20 minutes. if you have a third, suddenly it takes an hour to go to the bathroom, and, you know, get some Kool-Aid somewhere."
Actually, finding Kool-Aid in Russia might have taken a bit longer.

Given such a massive undertaking, the tour came off remarkably well - no doubt due to the wonderful esprit de corps that came from so much singing en route. Well, that and the bonding experiences we shared: hot, overcrowded concert stages; colds, and remedies for them; anxiety over Russian immigration. Not even a die-hard lone wolf traveler could resist the sense of family that developed. We started to feel as though we were in our own world, with each hotel as our palace. (One guy carried that a bit far by coming down to breakfast in his bathrobe.) And we also developed our own lingo, which even found its way into morning announcements.
Betsy: "For those of you who have signed up guests at $100 a piece and haven't paid, we'd appreciate that money, made out in U.S. dollars, to Yale Alumni Chorus. No persuados or scruples or any of that, okay?"
Persuados and scruples, flurbles and dribbles, things and thingies - as fast as we changed currencies, we came up with alternate names for them. The Russian alphabet - "acryllic," as it got dubbed - was another source for groupspeak. When people began to read signs for "ristoran" - Russian for "restaurant" - using the Cyrillic characters like ones they resemble in the Roman alphabet, the word PECTOPAH entered the lexicon. When we got back to England for our final concerts, they needed a translator to understand us.

Members of the Yale Alumni Chorus at the tomb of Elihu Yale in Wrexham,
Wales
By the time the Alumni Chorus was invited to re-assemble in New Haven, Connecticut to celebrate Yale's 300th anniversary the first weekend in October, the whole world had changed. I was still feeling raw - not to mention leery of getting on a plane. I couldn't quite imagine going. But the more I thought about my community of traveling singers - friends with whom I'd experienced some of the greatest sights in the world, and with whom I'd made glorious music that connected with total strangers all over the world - I couldn't imagine not going.

The Yale Alumni Chorus (in concert attire - white tie and tails) in the
Great Hall of the Moscow Conservatory
For the Savvy Traveler, I'm Naomi Lewin.
Savvy Notes:
Thanks to Lily Giordano and Toni Liebman for the use of their photographs!
Return to Feature Archive