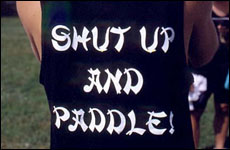 If you ask people of my mother's generation what the biggest change in travel has been over the last forty years, the first thing they say is "the way we dress". And it's true. Men used to wear suits and ties, women dresses, heels and gloves. Now we all wear jeans or sweats. And t-shirts. The t-shirt has become the universal wardrobe, worn from the Champs-Elysses to the beaches of Costa Rica. And we send an immediate identity image by our t-shirts. I notice I command a lot of respect when I wear my Harvard t-shirt, even though I didn't go to Harvard. And we have been advised not to wear blatant USA t-shirts abroad since September 11. Our reporter Jim Bogan found humor, as well as social commentary, in the vast array of t-shirts he came across during a trip to Brazil.
T-Shirt Cantata

By Jim Bogan, 11/2/2001
One shirt follows another as you walk along the street in:
Belem
State of Para
Brazil

Wild West
Amazon
Cowboy
Break the Dance
Infinite Liberty
On the Road
Track of Nobody

Midnight
Mother Survivor
Nasty
New York Times
Rolling Stones
Jungle Baby
Satisfaction

Be a Nice Guy
Reproduce
Dangerous Tigers
One Life to Live. Addict.

Rivalry of Wiinter?

Yes, Rivalry of Winter
And endless invitations across gentle chests:
Oui!
Yes
I'm ready
I'm EASY
Feel it
Upward Mobility
Oi!
Match 'em up
Imagine
Bottomless

(not)


Yours for the Asking
Garlic Is As Good As Ten Mothers
I'm Nobody
Vote for Jesus
Real Savage
Take Anyone
Mystery
Merda
No Comets
heads on moving bodies swinging to the rock songs that's liberty
Charlie Chaplin
Janis Joplin
John Lennon
James Dean
Che Guevara
Charlie
Chaplin
"More than machinery


we need humanity."


Charlie Chaplin
And this from the Walt Whitman of Brazil. Carlos Drummond de Andrade:
FIM
Savvy Notes:
The t-shirt is the garment of choice in the equatorial city of Belem. A surprising majority of the shirts are in English, and often the wearer does not know what he or she is broadcasting. T-Shirt Cantata began as a list that turned poem and eventually became a 12-minute documentary film.
Return to Feature Archive