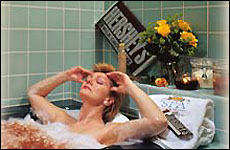 The leaves are turning, the nip of fall is in the air, and that means it's cocoa time! It's also Halloween which means it's chocolate time. To honor both events, we have sent our dedicated reporter Judy Fein on a rugged, dangerous assignment. Judy has immersed herself, literally, in a chocolate spa.
A Kiss From Hershey

by Judie Fein, 10/26/2001
My mouth says yes, yes, yes. But my butt and thighs say no, no, no. That's my daily battle as a raging closet chocoholic. So when my husband Paul and I arrive at the new Hershey spa in Pennsylvania, I tell my lower parts to shut up as I whisper a grateful yes.
Kathy: "I'm preparing a whipped cocoa bath for you."
Judie: "So what's really in there?"
Kathy: "We have the Hershey whipped cocoa bath, which is our signature product. And we also add actual Hershey's cocoa and powdered milk and we put 1/8 of a cup of cocoa in it...it's enough for the actual scent and the luxuriousness of the cocoa..."
My spa therapist Kathy puts on soothing music and eases me into a tub of hot cocoa with Jacuzzi jets.
Kathy: "You can increase or decrease the density of the jets."
Judie: "I'm basically bathing in chocolate while my neck is getting massaged. Now all of me is getting massaged..."
Next, I'm ushered into a massage room and greeted by another spa therapist named Suzanne.
Judie: "Owwww, oooo, Suzanne, what are you putting on me? That's a little rough!"
Suzanne: "This is our cocoa bean polish. It's made with walnut shell powder, cocoa bean husks, and coconut oil to give it that creamy texture."
It feels like I'm being rubbed with a raw brownie mix with lots of nuts in it. But Suzanne explains that she exfoliating me‹removing dead skin cells.
Suzanne: "What you want is something with texture and roughness to sand the skin, so to speak."
While I am getting beaned and sanded, Paul is being treated like a biscotti, slathered in a layer of the milky brown stuff by a man named Francis.
Francis: "What we're doing is a chocolate fondue wrap. We take Moor mud and add cocoa oil to it and we apply the product all over your body from your head all the way to your toes."
Judie: "Is he gonna get chocolate 'down there?'"
Francis: "Not 'down there,' but close!"
Frances speaks to Paul in a calm, soothing voice.
Francis: "You're supposed to feel like I'm putting chocolate on you."
Paul: "I look like a little chocolate soldier now."
When we go to our rooms to pass out from relaxation, we are given free Hershey bars and kisses and those addictive little chocolate squares. Gobble, gobble. We wake up in time for a few peanut butter cups and dinner at the elegant Circular Dining Room. It starts with rolls and chocolate butter and ends with a plateful of sin, delivered by our waitress Sherry.
Sherry: "The pastry chef has specially made you up an assortment of chocolate desserts, and the first one displayed here on the plate is a chocolate mousse cheesecake. The second one here is a chocolate tulip cup filled with chocolate mousse. And the third delicious cake is a chocolate torte."
By now, Iım dying to know how Sheri still has a waistline and if the staff performance is measured by the pound.
Judie: "You are a skinny minnie. How do you do it? Do you eat chocolate all the time?"
Sherry: "No. I think of the calories and I don't eat it - it's will power."
Minutes later, I'm introduced to Rory Reno, the executive chef. Although I expect him to look like a Goodyear blimp, he has a decidedly normal human form. How does he do it?
Rory: "I love chocolate, but I can't even eat a whole lot because I'm a diabetic. But whenever I can, I sneak a little bit of it here and a little bit of it there. Probably the equivalent of 3 or 4 kisses - not much."
And what about Jennifer Whalen Smith, the spa director? How come she's not a teletubby?
Whalen Smith: "I try to stay away from the chocolate, although I just had one of the miniatures as I walked in here."
Why does she stay away from it?
Whalen Smith: "Because sitting here all day long eating chocolate would not be beneficial for my waistline."
By the second day at Hershey's, I'm saying no to kisses and pass on a dessert. And then I get it. When chocolate is everywhere - accessible, often free, abundant - when you're bathed it and wrapped in it, it's no longer forbidden. It's like the legalization of a deep, dark-colored drug. And without the sin, the craving stops. I dance through the halls of the spa chirping, "Thank you, Hershey, for curing me of being a chocoholic." And if I have a relapse, I can always check in for a treatment at the chocolate spa, until I am cured again.

In Hershey, Pennsylvania, this is Judie Fein for the Savvy Traveler.






Return to Feature Archive