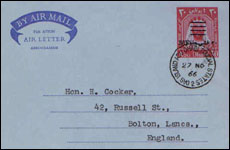 Business Travelers aren't the only ones who've been pressed to get back in the air. Last week, our reporter and producer Benjamin Adair got an emergency call and had to jump on a plane. He wrote this essay about the confluence of personal and national grief - and how time keeps marching on, whether or not we want it to. Wendell Adair Senior was 85 years old. Benjamin Adair is his grandson.
Postcard - Necessary Travel

By Benjamin Adair, 9/28/2001
It's travel when I need to...because my grandpa died last Sunday. It wasn't unexpected, he'd been very sick, but don't let that temper your "I'm sorrys." Call the airline phone maze...hold music...the voice final gets to me with outrageous figures -- Monday morning bereavements still set me back more than a grand...dad's paying back half, but still: I'm nervous...I'm sad. I'm a little concerned walking through the airport, terminal 6. Life and death go on after September 11...security guards taking shavers from business men...in-flight attendants buckling belts, pilots sightseeing out the right side of the plane...preachers and grandmas stealing last looks at granddad in the casket - American flag pinned on one side, Masonic seal to the other.
It's travel cuz I need to...Americans are driving more, they say, car sales and SUVs are up. The rented red Camry takes us from hotel to wake to service to grave...the grandsons - that's me and the rest - lift him into the hearse, then hearse to internment...ashes, ashes...dust, dust. The preacher says take the church banner to Mayor Giuliani up north. Dad's come from New York (saw the whole thing from his office window) and preacher wants the city to know, "We're thinking of you and yours, even down here in Jonesboro, Georgia."
I'm traveling because I need to. I lost my grandpa last Sunday...by Tuesday I'm back on a plane. My second since Events. Two hours early, and walking right in. Hartsfield's deserted. Quiet. People whisper. They don't cut the Xray line. They wait til their seat aisle is called. They say "Excuse me" before bopping your head with a carry-on. They say, "The Arabs are suspect. I'm not ashamed to believe that." There're no claps on landing...everyone stares straight ahead.
On the airport bus back to parking we're all confused. A woman forgets to exit at T7. The driver says she doesn't think she's allowed to stop here - don't get off. "It's confusing, a man tells me, "because it's new."
"You think because it's new?" I say back. "I don't know. I have a feeling it might stay this way.
"I have a feeling it might be like this for a long time."
Return to Feature Archive